60% of World Consumers Only Buy Products and Services in Their Native Language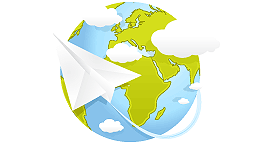 The Internet is changing the world and e-business is opening markets worldwide. Web-based technologies have dramatically changed business. Today, websites are more than a major marketing and branding tool; they provide new opportunities to sell to customers and communicate with business partners globally. But as companies develop their global business strategy, they must take localization into account to maximize international revenues, and strengthen customer relationships worldwide.
Website translation and localization are the most cost-effective methods available today to increase the reach and scope of international marketing efforts. While it is true that English is one of the most prevalent second languages, and people in many lands read and understand English, cultural differences and subtle linguistic nuances often lead to misunderstandings that interfere with a company's message. For any sort of product or service, 60% of consumers refuse to buy anything not in their own language.
To help companies take advantage of today's global marketplace, CSOFT brings together a 6,000-strong network of professional in-country linguists and culture experts, along with in-house localization engineers, marketing experts, publishers, testers and project managers to help our clients localize their websites in over 100 languages. We help businesses reach global markets quickly and competitively.
How Do We Localize Your Website?
In order to localize a website, we need to extract the existing source content. There are several methods to do this:
We can work with text, Excel, Word or RTF documents that contain a company's website content with all encoding or markup language removed,
We can use an URL to download the site and work directly with the sources files (.asp, .htm, .php, .xml, java and many more),
Our team can access a client's CMS so we can translate the topic-based text within the system.
In any case, we perform a word count analysis and send on a detailed quotation for approval before moving forward with the site localization.
All of CSOFT translations are done by humans, professional, in-country translators with related subject knowledge to achieve the best linguistic quality. We only use professional translators with a minimum of five years experience for all translation projects. Only the best translators with specific subject expertise are chosen to work with CSOFT. The same team is responsible for proofreading and editing their translated work and a 2nd linguistic team then provides independent review to ensure the final deliveries meet our stringent quality standards.
Creating the highest quality global websites takes much more than just translation. It's a complex process that involves project management, file preparation and TM leverage, translation and review, quality assurance, localized website testing, content updates, and terminology management. With additional content being developed and uploaded and in need of localization, content management becomes an increasingly daunting task. To tackle all these problems, CSOFT provides not only linguistic and technical localization but also helps clients manage future web content updates. And thanks to our global reach and international cultural and legal expertise, it can all be across multiple time zones, utilizing various best business practices depending on culture and obeying all regulatory requirements regardless of region.
Partial or Complete Website Translation
Many companies and organizations have already realized the benefits of translating their websites, partly or entirely. While we recommend the translation of the entire website, some companies decide to translate only core pages on which they highlight their international offerings. Choosing key pages to translate may be an alternative solution that better suits your needs.
We Handle all of the Following File Types:
HTML
XHTML
XML
MDB
JAVA
FLASH
CSS
ASP
PHP
PROPERTIES