Technical Translation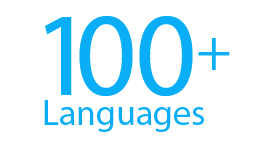 Powered by our extensive network of professional translators around the world, CSOFT provides professional in-country technical translation in more than 100 languages. We emphasize the importance of professional in-country, native translators because the subtle nuances of a language can only be thoroughly appreciated by those who live within the culture and speak the language every day. As part of our commitment to excellence, we use only professional translators with a passion for linguistic excellence to deliver superior quality and efficiency with every project.
CSOFT has a well-defined process to qualify our translators with a multifaceted rubric evaluating technical accuracy, linguistic style, grammar, glossary management ability, knowledge of document tags, and proficiency with TM tools. Not only do our stringent standards require translators to have a minimum of seven years experience as a translation professional, but we recruit only those with in-depth subject matter expertise and field experience. When it comes to quality translation, experience means a world of difference in terms of accuracy, style, and efficiency. In addition to linguistic and field expertise, our professional translators also excel in technical writing in their target languages. Good technical writing is essential for the target translation to read smoothly, free from the stiffness often associated with amateur translated text. Another important skill we look for from our translators is the ability to work with CAT (Computer Aided Translation) tools for improved translation efficiency and consistency. The ability to work with CAT tools tends to separate good translators from those who have not been able to keep up with the development of the L10N industry.
Having a large network (over 6,000) of professional translators specializing in a variety of fields also allows CSOFT to craft customized translation teams for our clients' projects based on their subject matter expertise needs. We combine linguistic quality with subject expertise and ensure the highest quality multilingual translation our ISO 9001 & 13485 certified quality assurance (QA) steps.
For any given project, our in-country translation teams complete initial translations using reference materials provided in the localization kit. The same translation teams are responsible for proofreading and editing before sending the translation back to the project's PM. All linguistic issues are clearly documented, with a complete language query report for future reference and correction.
Our standard process includes review by a second in-country team, to ensuring unbiased evaluation and editing for the highest quality of translation. Any linguistic edits are sent back to the initial translation team for implementation. For larger projects, the project manager sends samples of completed translations to the client reviewer (SMEs) for advanced validation. By performing initial client review early in the project cycle, we are able to catch linguistic issues and preferences immediately for the greatest efficiency. To emphasize, we customize review processes as needed for specific material types and client requirements; the preceding reflects our standard template approach to in-project QA/QC.
Our quality system also includes continuous capability development. Each year, CSOFT invites our linguists from around the world to our headquarters for training sessions and seminars. This ensures our translation teams keep up with technological developments and use the most up-to-date processes in their daily work to help deliver better quality and efficiency.