Software Localization Testing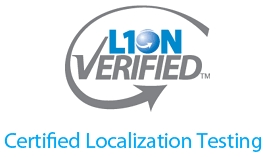 Localization testing is an integral component of the software localization process. Oftentimes a client only asks a LSP to translate the software strings and then compiles the localized software on their own. While this practice may initially save some costs, it can lead to major quality issues. The localized software must be verified linguistically and cosmetically to eliminate both translation errors and functional bugs before it's released to the end consumer. Skipping this step is a formula for poor quality, leading to unsatisfied customers.
Linguistic Testing
Linguistic testing is the process of systematically verifying the translated strings on each software screen to ensure correct translation. Our linguistic testing usually covers the following issues:
CSOFT offers professional localization testing in addition to our standalone software testing solutions which include internationalization (I18N), functionality, and localization testing. Localization testing focuses primarily on a product's cosmetic and linguistic characteristics such as truncation and translation quality.Furthermore, CSOFT offers the L10N Verified service as an independent 3rd party audit for the localized software in terms of linguistic, cosmetic and functional quality so the customer can release the software in international markets with confidence.
The purpose of localization testing is to ensure that the quality of the localized application matches that of the source product. Once localized, the software needs to be verified on different platforms to see if the translated options properly populate the target dialog boxes and all the hotkeys use unique letters. CSOFT conducts localization testing separately for each target language using a subset of the testing scripts developed for the English version. If such testing scripts are not available then we will work with our clients to develop a testing strategy such as going through the translated resource files to check every menu, dialog box and message.
Checking that all UI strings have been translated (both hardcoded and external resource strings)
Checking that concatenations are resolved properly
Checking that there is terminological and stylistic consistency between menu items and dialog box titles
Checking that accented characters display and print properly
Checking that punctuation rules are observed
Checking that localized text wraps, that hyphenation is correct, and that alphabetical/numerical sorting rules are observed
Checking that hotkey assignment is consistent with the target operating system
Checking that abbreviations have been used when required by interface design
CSOFT uses only professional, in-country translators with applicable subject matter expertise for linguistic testing and verification. This practice ensures the highest UI translation quality. However, to optimize our testing model and maximize efficiency, our China-based testing team sets up the localized applications and testing environment for centralized engineering execution. All localized screenshots are systematically captured to be included in our linguistic testing report database. These reports are then sent to our in-country translators for linguistic verification and validation. Using the CSOFT model, we are able to eliminate much of the redundant work involved in setting up the testing environment in multiple locations. Furthermore, we are able to gain cross-language platform leverage from an engineering standpoint since we only need to go through the setup instructions once. CSOFT has been able to achieve significant cost savings for our clients' linguistic testing needs by using this de-coupled linguistic testing model.
Cosmetic Testing
For software localization, cosmetic testing is an essential step to ensure the localized GUI is free of truncation, misalignment and other layout issues. CSOFT has one of the largest localization testing teams in the industry to perform cosmetic testing efficiently. CSOFT's testing team is responsible for hotkey testing and fixing cosmetic bugs such as dialog box resizing wherever possible. The following list contains some of the tasks we perform for cosmetic testing:
Checking that all dialog boxes are properly resized without truncation
Checking that all hotkeys in dialog boxes and menus are unique
Checking that extended characters display as expected
Checking that all buttons are aligned, sizing of screen elements is consistent and aesthetically pleasing
Checking that dialog boxes and menus display properly using regional settings
All cosmetic testing will be performed at the dedicated Localization Hub to achieve cost savings.