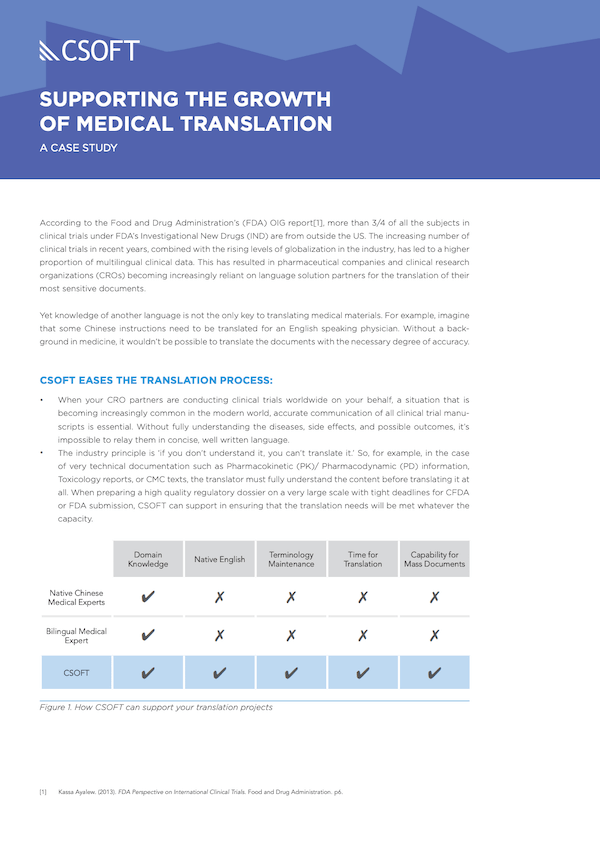 Contents
CSOFT EASES THE TRANSLATION PROCESS: When your CRO partners are conducting clinical trials worldwide on your behalf, a situation that is becoming increasingly common in the modern world, accurate communication of all clinical trial manuscripts is essential…
STUDY CASE #1: International Pharmaceutical Company Filing For CFDA Approval…
STUDY CASE #2: Clinical Research Translation Partner…
CASE #3: Multinational CRO New Marketing Campaign…
CASE #4: Pro Bono Consultation…
According to the Food and Drug Administration's (FDA) OIG report, more than 3/4 of all the subjects in clinical trials under FDA's Investigational New Drugs (IND) are from outside the US.
The increasing number of clinical trials in recent years, combined with the rising levels of globalization in the industry, has led to a higher proportion of multilingual clinical data.
This has resulted in pharmaceutical companies and clinical research organizations (CROs) becoming increasingly reliant on language solution partners for the translation of their most sensitive documents. Yet knowledge of another language is not the only key to translating medical materials. For example, imagine that some Chinese instructions need to be translated for an English speaking physician.
Without a background in medicine, it wouldn't be possible to translate the documents with the necessary degree of accuracy.
Other publications by CSOFT