Shunee Yee joins Technonomy's rapid-fire Fusion sessions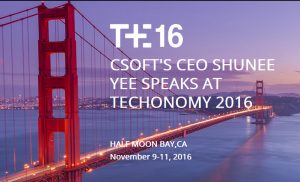 HALF MOON BAY, Calif. & BEIJING–(BUSINESS WIRE)–CSOFT International, a leading provider of globalization and localization services, announced this week that Founder and CEO, Shunee Yee, will be attending and speaking at Techonomy's 2016 Conference in Half Moon Bay on November 9-11.
Ms. Yee will take part in Techonomy's Fusion, a rapid-fire « what's-what » that is used to open the conference. During this session, attendees spend 90 seconds discussing a subject that is most pressing to them as they look at the world today, what they're excited about, what they're concerned about, what drives them, and what keeps them up at night. By highlighting important, top-level ideas, this session highlights topics which will be further explored during subsequent conversations throughout the conference.
This year's conference is themed « Man, Machines, and the Network » and features such renowned business and tech leaders like Blackberry's John Chen, JP Morgan Chase Institute's Diana Farrell, venture capitalist Bill Gurley, Fitbit CEO James Park, GE Software's Bill Ruh, Kaiser-Permanente's Bernard Tyson, serial entrepreneur Martin Varsavsky, NextEV's Padmasree Warrior, and the social networking pioneer Mark Zuckerberg.
« In an increasingly globalized world flattened by the Internet and transportation technology, it has become imperative for businesses to reach out and connect with their customers around the word. In China especially, the environment is shifting as the economy becomes more focused on innovation and global development, » commented Yee. « That's why today the language translation industry plays an important role in helping companies localize and deploy their products successfully in world markets. »
Along with 250 participants from companies such as Verizon, IBM, Intel, Ford, Otto, Sentinent, Facebook, Cisco, GoDaddy, GE, JP Morgan Institute, Nautilus Labs, EdgeMakers and Spire, CSOFT will participate in Techonomy's sessions. Together conference goers will examine the implications of an increasingly data-driven, responsive ecosystem on global businesses, governments, and societies.
« There is no stopping globalization today simply because, to borrow the line from David Kirkpatrick, we are living in a technologized, interconnected age, » Yee said. « I am very excited to have the opportunity to share ideas with brilliant thinkers of the tech world at Techonomy 2016 and work together to build better global businesses to benefit all countries and people. »
For the full program agenda, list of participants and more information, please visit: http://techonomy.com/conf/te16/
About Techonomy Media
Techonomy is a media company with a mission: to elevate the dialogue about the central role of technology and innovation in business and social progress. Through events, editorial coverage and video content, Techonomy seek to accelerate progress and productivity in business and society. For more information, visit www.techonomy.com
About CSOFT International
CSOFT International Ltd. is a world leader in localization and globalization consulting services, providing turnkey solutions for companies facing the challenges of engaging customers and markets across linguistic and cultural barriers. Recognized as one of the Top Innovative Companies in 2011 by IDC we have an award-winning international team. In 2012, the company's CEO was named one of Fortune Magazine's 10 Most Powerful Women Entrepreneurs and a Tech Disruptor by CNN Money.