Leading localization services provider expands into new office in Shanghai.
SHANGHAI–(BUSINESS WIRE)–CSOFT International Ltd., a leading provider of globalization and localization services, announced last week that their Shanghai team has officially moved to the brand new Jing An Kerry Centre located in the heart of Shanghai's central business and international district.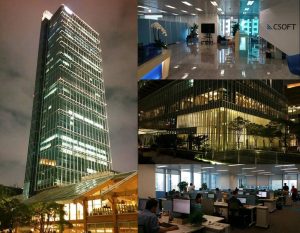 CSOFT's office move is aligned with the company's strategic vision to unite the East and West. Their relocation clearly reflects the fast growth that the company is experiencing as businesses around the world strive to connect across cultural borders.
"A fast-growing international city, Shanghai truly embodies globalization – the coming together of cultures to create a new culture. We are fortunate to have witnessed first-hand the city's spectacular growth during the last ten years and are extremely excited to relocate one of our offices for a new decade of innovation and expansion. Selecting Jing An District was an easy decision, it represents the joining of the new and the old and the development of multinational cultures in a way that we feel embodies our own company's strategic vision," said Ms. Shunee Yee, President and CEO of CSOFT.
Located in the Jing An District of Shanghai, the Jing An Kerry Centre combines the neighborhood's historic character with the vibrant and bustling nature of modern Shanghai. The architecture, with open air walkways, sports a medley of glass, metal, and stone cladding finishes, invokes a feeling of liveliness adding to the buildings unique personality.
The new Shanghai office opens just in time for CSOFT's 12th annual summit, the largest globalization conference in Asia that connects CSOFT's linguists, customers, and partners in life sciences, manufacturing, IT, finance, and energy from around the world. The summit will be hosted in the Jing An District as a "house-warming celebration" for CSOFT's newly upgraded space.
Last year's summit was themed "Innovation in the Sharing Economy" and this year CSOFT plans to further expand on that topic by examining what it looks like to thrive in today's global economy. It will explore how companies can work through challenges while taking advantage of the opportunities that arise from doing business in this increasingly connected world. Keynote speakers will include Shane Tedjarati, the CEO of High Growth Regions at Honeywell, and Huang Youyi, the Founding Member and Executive Vice President of the Translation Association of China.
Marisa Drew, Co-Head EMEA Investment Banking and Capital Markets at Credit Suisse, who attended the 2015 conference as a keynote speaker, will be returning to join a panel with Michael Kuan, Chairman of Kuan Capital, to discuss how mega-trends impact the sharing economy. Bill Powell, the Asia Editor & Chief International Correspondent at Newsweek Magazine, will also attend to host a panel. The Summit will additionally feature a variety of guests and speakers from Hologic, Alibaba, Carestream, UBTECH, Lenovo, and more. The summit will conclude with CSOFT's Annual "Team Building" event taking place at the Disney Shanghai Park.
"To continue to expand the reach and influence of our annual summit, we are embracing new livestreaming technology. As a company that aims to help connect countries around the world, we're always looking for ways that we ourselves can be more connected across our linguistic community," said Will Knight, Executive Vice President of Global Growth. "We encourage everyone to join us by logging into www.ingkee.com (through wechat, QQ, Weibo, or your phone number) and search for the number 198251599."
About CSOFT International
CSOFT International Ltd. is a world leader in localization and globalization consulting services, providing turnkey solutions for companies facing the challenges of engaging customers and markets across linguistic and cultural barriers. Recognized as one of the Top Innovative Companies in 2011 by IDC we have an award-winning international team. In 2012, the company's CEO was named one of Fortune Magazine's 10 Most Powerful Women Entrepreneurs and a Tech Disruptor by CNN Money.