CSOFT Celebrates 10 Years from Mt. Everest
Mount Everest
As a part of our 10 Years, 10 Places, 10 Events (10-10-10) celebration, CSOFT's flag traveled to the top of Mt. Everest with Ruben Payan, who over the past decade provided guidance to CSOFT members on how to maintain physical and mental well-being in the business world.
Celebrating 10 years of phenomenal growth, CSOFT's 10th Annual World Summit marked a momentous occasion in the company's history. Focusing on "The How of Global Success," the Summit offered a look ahead into the next decade of global communication trends and developments in an increasingly connected world economy.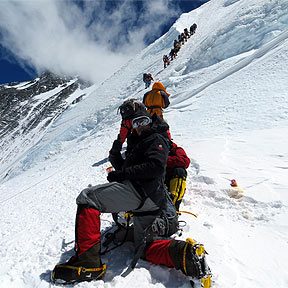 What's your Everest?
Personal trainer, life coach, entrepreneur, fitness enthusiast, conqueror of mountains — these are just a few of the appellations we might give to Ruben Payan, a longtime friend of CSOFT and a recent champion of the world's highest peak, Mt. Everest.
With his well-built physique, on first glance, it's impossible not to imagine Ruben as a superhero with superhuman strength.
Underneath all that muscle, however, there is a good-natured, genuine guy whose most basic goal is to get as much as he can out of life — which seems more deserving of the superhero label than his powerfully built appearance. And it's no exaggeration to say that he's already pushed those boundaries. Having recently experienced a near brush with death, Ruben explains to us how reaching the summit of Mt. Everest wasn't even close to the hardest part of the enterprise.
Rather, his descent from the 8,848-meter peak, completely blind and suffering the debilitating effects of extreme altitude, makes for a harrowing story of the power of sheer determination and the acceptance of fate.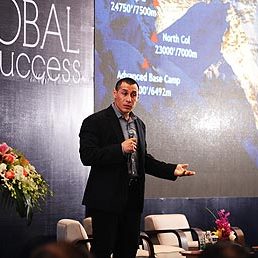 What's my Everest?
Attending CSOFT's 10th Annual World Summit 2013 in Sanya, Ruben shared with the CSOFT family his experiences preparing for, enduring, and ultimately surviving one of Earth's greatest natural marvels.
Celebrating 10 years at the Summit, Ruben returns to us the CSOFT flag, which he carried all the way to Everest's own summit, taking a piece of us with him and giving a piece of the mountain to us.
This gift, in addition to his "stories from the top", teaches us how to overcome extreme barriers and helps us define on a very personal level the extent of our own Everest, compelling each of us to ask ourselves "What's my Everest?".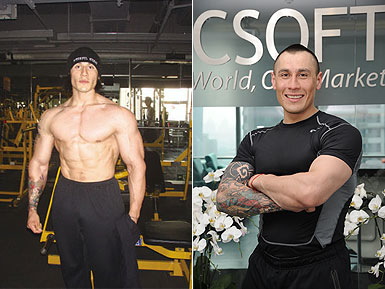 Corporate Wellness at CSOFT
If you don't have your health, you don't have anything, especially in such a mentally-taxing industry like localization.
This is one reason CSOFT has brought in fitness expert Ruban Payan to lead our staff physical training program as part of our corporate development. Ruban was born in Phoenix, Arizona, where he received a certificate as Fitness and Nutrition Coach after having served in the United States Marine Corps for four years.
He is a master in the Chinese art of Qigong, and currently provides quality fitness education through Human in Motion in Beijing.