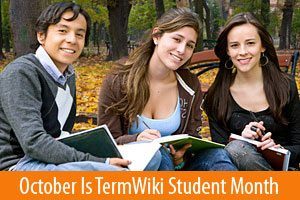 Sunnyvale, California – CSOFT International Ltd., a leading provider of multilingual localization, testing, and software development services for the global market, announced today the international launch of TermWiki Student Month. TermWiki.com is a social learning network that facilitates worldwide knowledge sharing, relationship building and social marketing.
"We are pleased to announce the launch of Student Month on TermWiki.com, which will last the entire month of October," says Shunee Yee, CEO and President of CSOFT. "We are thrilled to be able to provide students with a stimulating and user-friendly environment that contributes to their learning and growth."
TermWiki.com aims to combine the encyclopedic functions of Wikipedia and the social networking features of Facebook to create a unique knowledge-oriented platform where users can learn, share and connect to peers with similar interests. Its user-generated database currently houses over 1.5 million terms in more than 1500 domains and 80 languages. Thanks to the expertise and dedication of loyal users, TermWiki.com has become the world's fastest growing global social learning network.
TermWiki has introduced a number of collaborative features to help students get information quickly. AnswerBea allows students to ask pressing questions directly to the TermWiki community at large. The Groups feature allows students to connect with classmates and to exchange class notes. Students can use Forums to discuss shared interests and current events with users from around the world. TermWiki's newest social feature, BuzBea, keeps students informed about what's trending on campuses.
To encourage students to spread the word, TermWiki will be giving away a brand new Apple iPad 2 at the end of Student Month. Participants will compete to acquire the most student "fans" on TermWiki by October 31st. To qualify, interested participants must be current students with a valid .edu or university email address.
"TermWiki is designed to ease the process of learning and exchanging information between students, teachers, researchers and other professionals," says Carl Yao, Executive Vice President for Global Strategy at CSOFT. "As a simple yet dynamic website, TermWiki is the perfect complementary tool for students, alongside their classes and books. We are very proud of our students on TermWiki, and Student Month is a way we can show our support."
Interested students can visit www.TermWiki.com for more information about Student Month, the iPad 2 contest and to create a free account.
About CSOFT International
CSOFT International Ltd. is a world leader in localization and globalization consulting services, providing turnkey solutions for companies facing the challenges of engaging customers and markets across linguistic and cultural barriers. Recognized as one of the Top Innovative Companies in 2011 by IDC we have an award-winning international team. In 2012, the company's CEO was named one of Fortune Magazine's 10 Most Powerful Women Entrepreneurs and a Tech Disruptor by CNN Money.