HQ Magazine's 'China Executive Interview' Series Will Explore Thinking of 'New China' Business Leaders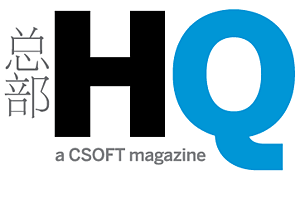 BeiJing – (BUSINESS WIRE)–HQ magazine, a publication of global communication solutions provider CSOFT International, plans to leverage its privileged access to Chinese executives by providing a fresh perspective and unique insights into the thinking of today's "New China" business leaders. Its "China Executive Interview" feature promises to bring a new dimension to China business coverage, going beyond the static data and statistics that typifies most reporting from the mainland.
HQ seeks to fill the knowledge gap that exists today regarding the future direction of Chinese business.
"People want to know more about the 'new China' and are generally interested in China's business development and the people driving it," said Shunee Yee, CSOFT's President and CEO, who was recently recognized as one of Fortune's 2012 Most Powerful Women Entrepreneurs. "Who are the leaders of this change? Some publications report on statistics and data, but few go deep, and even fewer attempt to go behind the scenes. By digging deeper and interviewing China executives, we're attempting to offer a different perspective."
Yee says HQ will provide a platform for Chinese leaders who have traditionally been reluctant to share their views in public. While cultural reasons may be responsible for some of these reservations, Yee also cites a lack of appropriate channels for business leaders to share their experiences.
"For those (leaders) willing to share their stories, HQ offers them the opportunity to do so," explained Yee. "We want to give them a voice. By asking questions that drive at the human aspect of each of these leaders rather than the typical interview questions usually encountered, HQ becomes a channel of information which sheds light on China's business landscape and demonstrates that great business leaders in both the East and West share similar qualities."
A complete electronic version of HQ magazine can be downloaded via CSOFT's website at www.csoftintl.com.
About CSOFT International
CSOFT International Ltd. is a world leader in localization and globalization consulting services, providing turnkey solutions for companies facing the challenges of engaging customers and markets across linguistic and cultural barriers. Recognized as one of the Top Innovative Companies in 2011 by IDC we have an award-winning international team. In 2012, the company's CEO was named one of Fortune Magazine's 10 Most Powerful Women Entrepreneurs and a Tech Disruptor by CNN Money.