Bay Area Executives in Technology, Life Sciences, Finance, e-commerce and San Francisco City Government gather for Global Leaders New Year Kickoff.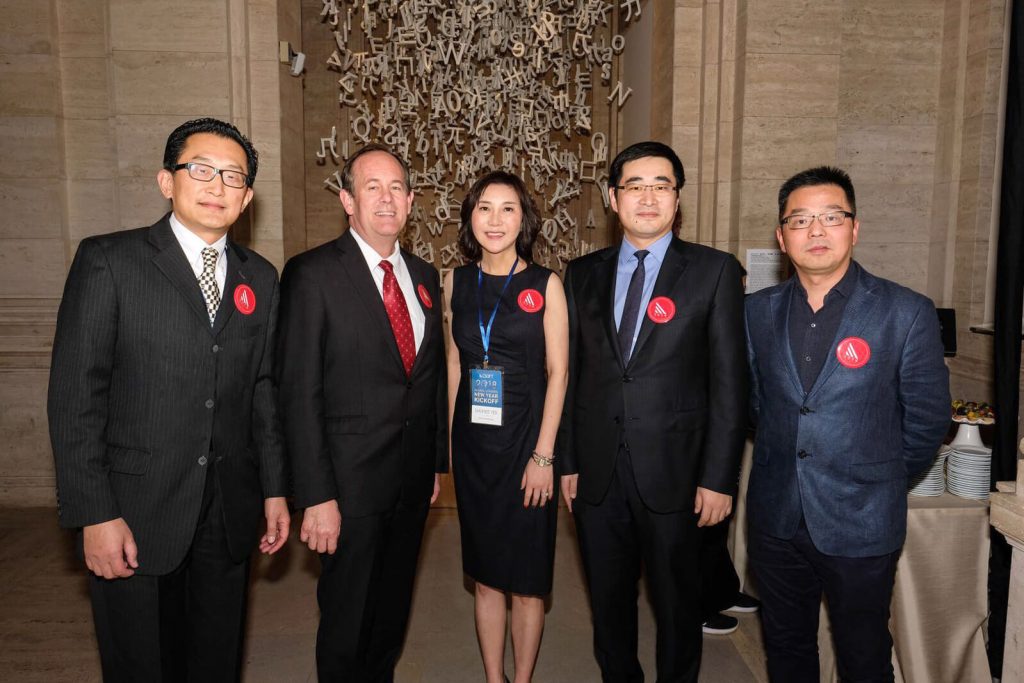 CSOFT International, a global leader in cross-border communications, has announced San Francisco home to its North American Headquarters as part of their aggressive 5-year U.S. expansion plan. Anticipating at least a 50% growth in 2018 and beyond, CSOFT hosted a successful high-level workshop in the afternoon focusing on how to balance AI with human content. The half-day session was followed by a Global Leaders New Year Kickoff reception at the prestigious Asian Art Museum.
Joined by the San Francisco Mayor's office, Bay Area Council, San Mateo China Trade Association, the Chinese Consulate General's Office, the Chinese Enterprise Association (CEA), The Asia Foundation, The Asia Society, leading law firms, international consulting firms, investment banks, technology companies, and financial institutions, CSOFT welcomed a gathering of more than 130 influential political and business leaders from the Bay Area and beyond.
Shunee Yee, Founder and CEO of CSOFT, opened up the evening with a speech highlighting the importance of language communications in a world that is not only getting smaller, but also being fundamentally changed by technology. Yee stated how CSOFT always saw themselves as the bridge between cultures, languages, and markets. However Yee claimed that "the word 'bridge' is no longer sufficient. The world is too small for that now." Cultures that used to be set apart in multiple ways are no longer so distinct. She further explained that "we are all part of the same growing global culture, and we have shared histories and challenges."
CSOFT's decision to make San Francisco the North American headquarters resonates with its commitment and passion for developing new ideas and fostering innovation in our digital world. Mark Chandler, Director of International Commerce & Trade followed Yee and spoke on behalf of the Mayor of San Francisco. Mr. Chandler warmly welcomed CSOFT as "a facilitator of future communication for the world," and praised CSOFT for choosing San Francisco, the Innovation Capital of the world, as its North American headquarters. He concluded with high hopes for the future as he "looks forward to working with Ms.Yee and CSOFT in the years to come."
Other speakers included Mr. Dun Lyn, representing the Chinese Consulate General's Office of San Francisco; Mr. Yong Wang, President of the Chinese Enterprise Association, which has more than 230 corporate members including top Chinese brands such as Tencent, Huawei, and Alibaba; and Anton Qiu, a Partner of Kuan Capital who also serves as the Vice-Chairman of the San Francisco – Shanghai Sister City Committee.
Surrounded by art, culture, and history, the evening was a success as influencers from around the world gathered around great music, food, and inspiring conversation. Yee, who has lived and worked both in North America and Asia, stated, "The growth in China has truly been phenomenal. At the same time, a groundbreaking technological revolution that has grown from here, Silicon Valley, over the last couple of decades has fundamentally changed everyone's lives."
"I'm so proud that CSOFT has been a part of this exciting journey," Yee concluded as she thanked CSOFT's global partners and Silicon Valley innovators who traveled far from companies such as Salesforce, Zynga, Pinterest, and Uber, "I'm so proud of all the companies that we have worked with, supported, and helped, as this vast technological revolution has taken place. We must work together to best leverage innovation and technology to further improve the world we are creating."
About CSOFT International
CSOFT International Ltd. is a world leader in localization and globalization consulting services, providing turnkey solutions for companies facing the challenges of engaging customers and markets across linguistic and cultural barriers. Recognized as one of the Top Innovative Companies in 2011 by IDC we have an award-winning international team. In 2012, the company's CEO was named one of Fortune Magazine's 10 Most Powerful Women Entrepreneurs and a Tech Disruptor by CNN Money.