B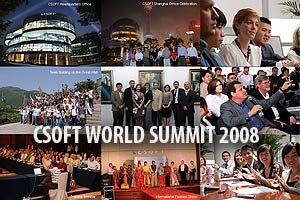 eijing, China – CSOFT International Ltd., a leading provider of multilingual localization, testing and software development recently concluded its 2008 worldwide summit in Beijing, China. The week-long event drew more than 300 staff and team members from around the globe, as well as leading figures from within the localization industry.
"It's been an annual tradition at CSOFT to invite our extended teams from around the world to our Beijing Headquarters for a week long of localization seminars, training, team building, as well as discussions on issues impacting the localization industry," said Shunee Yee, CSOFT President and CEO.
This year, CSOFT invited high profile speakers from multinational companies, industry speakers as well as expert linguists from four continents. Topics covered at the summit ranged from software localization and quality management to CSOFT's solutions for working with DITA CMS and Open Source L10N tools. In his presentation titled: "CMS in Localization and Open Standards, and how CSOFT Helped Get Us There," the documentation and localization manager from one company's Graphics Products Group, talked about how CSOFT helped its documentation team overcome some of the technical challenges working with CMS implementation for multilingual localization. "CSOFT has proven to be technologically and programmatically able to handle automating processes other localization firms have failed to do," commented the manager.
In addition to providing a forum to promote One World, One Team and to showcase CSOFT's impressive achievements, the summit also addresses the company's global expansion strategies and trends in the localization space. This year's summit also served as an opportunity for the company to formally celebrate the opening of its 75,000 sq ft headquarters in Beijing, which the company announced last month. Festivities held at the new location included Chinese acrobatics, an art exhibition featuring world-renowned artists, fireworks, an international fashion show and a black tie cocktail reception with guests from Microsoft, AMD, Intel and many other Fortune 500 companies.
"The 2008 World Summit also further solidifies CSOFT's role on the global stage," pronounced Shunee Yee. "In addition to fostering an innovative corporate culture to stay ahead of the competition, CSOFT is ready to lead the next wave of localization development with "Meili" or style," continued Yee.
About CSOFT International
CSOFT International Ltd. is a world leader in localization and globalization consulting services, providing turnkey solutions for companies facing the challenges of engaging customers and markets across linguistic and cultural barriers. Recognized as one of the Top Innovative Companies in 2011 by IDC we have an award-winning international team. In 2012, the company's CEO was named one of Fortune Magazine's 10 Most Powerful Women Entrepreneurs and a Tech Disruptor by CNN Money.