Leader in Localization, Translation and Globalization to Showcase Services at Industry Tradeshow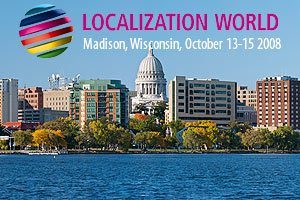 Beijing, China (September 29, 2008) – CSOFT International Ltd., a leading provider of multilingual localization, testing and outsourced software development for the global market, announced today it will exhibit at Localization World Madison 2008, which will be held October 13-15th in Wisconsin's capital city. The conference will be held at the Hilton Madison Monona Terrace and CSOFT will be located at booth #33. Localization World Madison 2008 is produced by Multilingual Computing and The Localization Institute, in cooperation with The Globalization and Localization Association (GALA).
"As one of the fastest growing major LSPs in the world, CSOFT provides targeted solutions to help companies deploy products in the global market quickly and competitively. Our methodologies create long-term cost efficiencies through streamlined L10N processes, fast turnaround, ease of upgrades, and consistent, quality execution at every step of the localization cycle," said Shunee Yee, CSOFT President and CEO. "We look forward to showcasing our breadth of services at the show."
Powered by its expert in-country linguistic resources, excellent engineering capabilities and professional project management, CSOFT provides a broad range of language and technology solutions in over 90 languages for a variety of industries such as IT, Life Sciences, Manufacturing, Automotive, and Financial Services. CSOFT has one of the largest technical resources in China with a global network of operations spanning Boston, San Francisco, Japan, Germany, Canada and Australia as well as language teams in major European and Asian markets. This unique background allows CSOFT to provide quality and affordable globalization solutions that are both scalable and flexible.
CSOFT is continuing to expand its team and is actively seeking additional business development managers in many metro areas across the US and Europe.
About CSOFT International
CSOFT International Ltd. is a world leader in localization and globalization consulting services, providing turnkey solutions for companies facing the challenges of engaging customers and markets across linguistic and cultural barriers. Recognized as one of the Top Innovative Companies in 2011 by IDC we have an award-winning international team. In 2012, the company's CEO was named one of Fortune Magazine's 10 Most Powerful Women Entrepreneurs and a Tech Disruptor by CNN Money.