Multilingual Localization Leader to Address the Importance of Terminology Management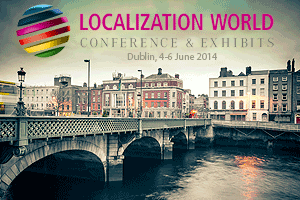 Dublin, Ireland (June 4, 2014) – CSOFT International Ltd, a leading provider of globalization and communications solutions, announced today that CSOFT's Senior Tools Strategist Dr. Uwe Muegge will speak at Localization World Dublin 2014, on Wednesday, June 4th during the TAUS TaaS track. During the presentation, Muegge, an expert and lecturer in translation and localization, will share practical insights into the use of terminology management tools in translation and localization workflows.
"Effective terminology management is key to consistency and improving production turnaround times," says Carl Yao, CSOFT's Executive Vice President for Global Strategy who is both the lead architect and creator of IDC-award winning TermWiki Pro. "It is essential for improved product quality and reduced translation costs."
During the session, Muegge will highlight web-based terminology management solutions and illustrate the importance of web-enabled collaboration. He will provide examples of technologies that allow users to store terminology information in a central location in the cloud, allowing all content stakeholders such as editors, validators, translators, and reviewers to access the same set of data.
"At CSOFT, we always strive to stay on the cutting-edge of technology," adds Yao. "From Uwe's session, audience members will come away with definitive strategies to increase their companies' ROI in international markets."
Localization World is a conference and networking organization dedicated to the language and localization industries. The upcoming event is expected to attract more than 600 global business executives from 45 countries and will feature nine tracks related to the "Know-How for Global Success." Its speaker line-up includes representatives from Adobe Systems, eBay, Google, IBM, LinkedIn, Microsoft, and Spil Games.
To learn more about CSOFT, please go to http://csoftintl.com. The full conference program is available at http://www.localizationworld.com/lwdub2014/program.php.
About CSOFT International
CSOFT International Ltd. is a world leader in localization and globalization consulting services, providing turnkey solutions for companies facing the challenges of engaging customers and markets across linguistic and cultural barriers. Recognized as one of the Top Innovative Companies in 2011 by IDC we have an award-winning international team. In 2012, the company's CEO was named one of Fortune Magazine's 10 Most Powerful Women Entrepreneurs and a Tech Disruptor by CNN Money.