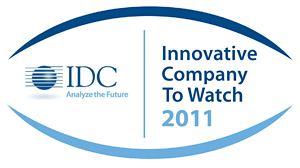 Danville,Calif – CSOFT International Ltd., a leading provider of multilingual localization, testing, and software development solutions for the global market, announced its inclusion as one of eight "Innovative Application Software Companies Under $100M to Watch" by market research and analysis firm International Data Corporation (IDC). The annual competition (IDC #230938) distinguishes CSOFT and TermWiki, the cloud-based technology that facilitates collaborative creation, translation and management of multilingual terminology, for contributing innovative solutions to a new emerging model of enterprise that includes web, mobile and social elements.
"We are thrilled to be chosen as one of IDC´s top innovative companies of 2011," said Shunee Yee, CEO and President of CSOFT. "We are deeply committed to the development of enterprise technologies that support social solutions, drive productivity, enhance customer experience, and provide an excellent return on investment. It is a great honor to be chosen, and we are equally pleased to be in the company of the other seven great organizations and their respective contributions to this next generation of social business and consumer trends."
The eight companies were chosen based on three key market trends—Commerce 2.0, Social Business Solutions, and Socialytics. According to IDC, Commerce 2.0 indicates a new business environment that combines social, mobile, online and real-life elements due to the growing value of social platforms, mobile apps, and online tools. Social Business Solutions includes online platforms, software tools and collaboration-based solutions, and Socialytics are the tools and applications that analyze social data to provide insightful business knowledge.
"This is a momentous honor," said Carl Yao, Executive Vice President of Global Strategy at CSOFT. "We truly believe that collaborative technology, a cloud-based model, and a social approach in enterprise solutions are impacting and driving global business change. We are flattered to be recognized by IDC for our efforts and will continue to uphold our dedication in producing innovative technology and applications."
For more information about TermWiki, watch the video here or please visit: http://www.termwiki.com.
About CSOFT International
CSOFT International Ltd. is a world leader in localization and globalization consulting services, providing turnkey solutions for companies facing the challenges of engaging customers and markets across linguistic and cultural barriers. Recognized as one of the Top Innovative Companies in 2011 by IDC we have an award-winning international team. In 2012, the company's CEO was named one of Fortune Magazine's 10 Most Powerful Women Entrepreneurs and a Tech Disruptor by CNN Money.