Former Lavasoft CEO Jason King to Manage New Location and Direct European Development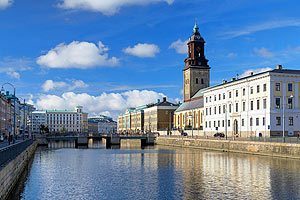 Beijing, China (May 6, 2010) – China-based CSOFT International Ltd., a leading provider of multilingual localization, testing, and software development services for the global market, announced today its expansion into the Nordic region with the grand opening of a new office in Gothenburg, Sweden. CSOFT has brought in the former Chief Executive Officer of Lavasoft, Jason King, to serve as Vice President of Global Business Development in Europe. Having served on CSOFT's Advisory Board since 2009, King recently resigned from his post at Lavasoft, the renowned anti-spyware company and developer of the popular anti-virus software, Ad-Aware. He will assume his new role with CSOFT immediately. King will be a featured speaker at the GALA 2010 Show in Prague next week.
"As our lead representative in Europe, Jason will oversee all business development operations in this strategically important marketplace," said Ms. Shunee Yee, CSOFT President and CEO. "With Jason on board, we aim to gain market share in this region by attracting new business opportunities, while further improving our localization service offerings to existing clients who are looking to strengthen their partnership with CSOFT. His exceptional leadership ability and sales expertise make him the perfect fit to direct our steadfast expansion into the European market."
King first joined Lavasoft as Director of Worldwide Sales in early 2007. Within four months, the leading developer of anti-virus software promoted him to CEO. In this role, King built a reputation for having the dual ability to develop his team while simultaneously expanding their business in the anti-spyware industry. He effectively restructured the company, developed strategic partnerships among competitors, and positioned Lavasoft as the go-to provider of Internet security solutions.
King's background includes more than 15 years in intercultural business, through which he has honed his exceptional skills in international communications, sales and business. After studying economics and finance, King worked within the financial sector in his native country, England, until relocating to Scandinavia in 1992. From there, he worked as Global Sales Development Manager at Ericsson Hewlett Packard Telecommunications, and as Area Sales Manager at Regus Business Centres. Just prior to joining Lavasoft, King handled B2B sales at Stena Lina AB for the European Market and later managed the company's strategic channel partner relationships.
"As a CSOFT client and Advisory Board member, I've watched CSOFT mature into the expert globalization player it is today," said King. "I guess you could say that I liked CSOFT's products and services so much, I decided to join the company.
In March of 2010, CSOFT helped Lavasoft localize their flagship product, Ad-Aware, into 11 languages, thus playing an important role in the expansion of Lavasoft's global presence. CSOFT also provides a broad range of translation, technology, and multilingual terminology management solutions in over 90 languages across a variety of industries, including IT, Life Sciences, Manufacturing, Automotive and Financial Services. CSOFT has one of the largest technical resource centers in Asia, with operations spanning the U.S., China, Japan, Germany, Canada, the United Kingdom, Australia and Sweden.
About CSOFT
CSOFT International Ltd. is a leading provider of globalization solutions to the Fortune 1000, ranging from translation and localization services to branding and market entry strategies. Recognized as one of the Top Innovative Companies in 2011 by IDC and one of the Top 5 Language Service Providers worldwide, CSOFT delivers quality-driven localization and language solutions with fanatical customer service, ISO-certified processes, and an award-winning multinational leadership team. In 2012, the company's CEO was named one of Fortune Magazine's 10 Most Powerful Women Entrepreneurs and a Tech Disruptor by CNN Money.
Media Contacts:
[megancontact]
Lisa Chan
+86-755-6683-3000 (Asia)
lisa.chan@csoftintl.com