Beijing, China – CSOFT International Ltd., a leading provider of multilingual localization, testing, and outsourced software development for the glob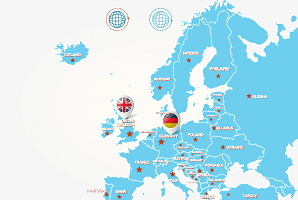 al market, announced the expansion of its globalization team with the addition of David Camici in the United Kingdom and Alfonso Rutigliano in Berlin, Germany. Camici comes to CSOFT with a strong background in business development and project management within the media sector of several large blue chips, and Rutigliano brings more than 10 years experience in the localization industry. At CSOFT, both will focus on business development and providing client support in the European region.
"The addition of both David and Alfonso will further expand CSOFT's reach into European markets, and allow us to better service our global clients with local support," said Shunee Yee, CEO of CSOFT International, Ltd. "Together, they bring more than 20+ years of management and localization expertise."
Rutigliano recently returned to Berlin after spending 13 years living and working in the United States and Switzerland. As part of CSOFT's European Business Development Team, Rutigliano will have special focus on Germany. He brings more than 10 years of localization industry experience to CSOFT, having first worked as an translator and later as a global project manager for Lionbridge out of New York, NY as well as on-site as a localization testing manager in Neuchâtel, Switzerland. Rutigliano is fluent in German and English.
Originally from Italy, Camici came to the UK in 1986 where he pursued a career in business development and project management within the media sector for large blue chips including AMEX, Chrysalis Media and Reed Elsevier. Additionally, he has worked at the strategic level on Search Engine Optimization and Web development projects. Camici is fluent in Italian and English with a solid understanding of French and Spanish.
CSOFT has one of the largest technical resources in China with a global network of operations spanning Boston, San Francisco, Japan, Germany, Canada, the UK, and Australia as well as language teams in European and Asian markets. For more information about CSOFT, please visit: http://www.csoftintl.com.
About CSOFT International
CSOFT International Ltd. is a world leader in localization and globalization consulting services, providing turnkey solutions for companies facing the challenges of engaging customers and markets across linguistic and cultural barriers. Recognized as one of the Top Innovative Companies in 2011 by IDC we have an award-winning international team. In 2012, the company's CEO was named one of Fortune Magazine's 10 Most Powerful Women Entrepreneurs and a Tech Disruptor by CNN Money.