Localization Leader to 'Dish Out' DITA Strategies at San Diego Conference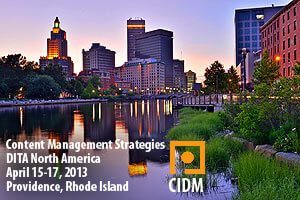 April 23, 2012 (La Jolla, Calif.) — CSOFT International, Ltd., a leading provider of multilingual globalization services and language technology, announced it will exhibit at this week's Content Management Strategies (CMS)/DITA North America 2012 Conference, April 23-25 in La Jolla, Calif. at booth 23.
"In today's fast growing global economy, enterprise content must be created across languages simultaneously and on demand," said Matt Arney, Vice President at CSOFT who will be at the show. "Being at the CMS/DITA show will allow CSOFT to illustrate how our Globalization Management Systems streamline the localization process by making enterprise content simultaneously available across all languages fast and with quality."
This year's CMS/DITA show celebrates the evolution of effective content management, providing opportunities for attendees to learn more about content management, authoring, technical solutions and emerging technologies. Attendees will learn methods of managing content more efficiently, as well as implementing the Darwin Information Typing Architecture (DITA).
"Companies gain substantial efficiency and quality by recycling not only translation memory and terminologies, but also the production workflow that streamlines the localization process," said Carl Yao, Executive Vice President at CSOFT. "We look forward to showing attendees how CSOFT has developed DITA compatible technologies to not only cut costs, but allow companies to best target their message for the global marketplace."
About CSOFT International
CSOFT International Ltd. is a world leader in localization and globalization consulting services, providing turnkey solutions for companies facing the challenges of engaging customers and markets across linguistic and cultural barriers. Recognized as one of the Top Innovative Companies in 2011 by IDC we have an award-winning international team. In 2012, the company's CEO was named one of Fortune Magazine's 10 Most Powerful Women Entrepreneurs and a Tech Disruptor by CNN Money.