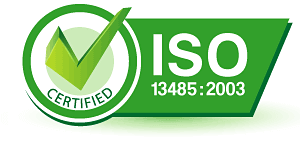 Beijing, China – CSOFT International Ltd., a leading provider of multilingual localization, testing and outsourced software development for the global market, announced today that it has achieved the International Organization for Standardization's (ISO) 13485:2003 certification. ISO 13485:2003 specifies the necessary requirements for an organization's quality management system as it relates to the medical device industry. CSOFT is one of the first language service providers (LSP) to be awarded this prestigious certification. CSOFT's MedL10N division provides a complete range of localization, internationalization, and globalization services for the medical device field.
"At CSOFT, we have always insisted on implementing industry best practices and proven processes consistent with the highest quality standards in our localization production to meet the stringent quality requirements of our medical device and life sciences clients,"said Shunee Yee, CSOFT President and CEO. "Being awarded ISO 13285:2003 certification further validates the depth and maturity of our quality management system (QMS) for medical translation and continuous improvement."
The ISO 13485:2003 standard was specifically developed to help medical device companies meet customer and regulatory requirements by consistently delivering products and services with the highest quality. CSOFT's ISO 13485:2003 audit was performed by the BSI Group, the world's premiere quality management systems registrar. BSI conducted an exhaustive on-site audit to verify that CSOFT's quality management system fully conforms to the requirements of the ISO 13485:2003 standard.
"The primary objective of this ISO 13485:2003 certification is to facilitate harmonized medical device regulatory requirements for quality management systems,"said Lane Ji, the Lead Assessor from the BSI Group. "After our audit, it became clear that CSOFT is committed to creating and implementing an effective QMS in delivering localization services to the medical devices industry."
CSOFT provides a broad range of language and technology solutions in over 90 languages for a variety of industries such as IT, life sciences, manufacturing, automotive, and financial services. CSOFT has one of the largest technical resources in Asia with a global network of operations spanning the United States, Japan, Germany, Canada and Australia as well as language teams in all major European and Asian markets. This unique background allows CSOFT to create long-term cost efficiencies through streamlined L10N processes, fast turnaround, and consistent, quality execution at every step of the localization cycle.
About CSOFT International
CSOFT International Ltd. is a world leader in localization and globalization consulting services, providing turnkey solutions for companies facing the challenges of engaging customers and markets across linguistic and cultural barriers. Recognized as one of the Top Innovative Companies in 2011 by IDC we have an award-winning international team. In 2012, the company's CEO was named one of Fortune Magazine's 10 Most Powerful Women Entrepreneurs and a Tech Disruptor by CNN Money.