Globalization company to lead translation to advocate for female education worldwide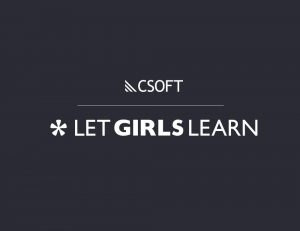 San Francisco, CA and Beijing, China (March 10, 2016) – CSOFT International Ltd., a leading provider of translation services and globalization solutions, announced today that it will lead translation of training literature for the White House's Let Girls Learn initiative.
Let Girls Learn was launched in March 2015 by US President Obama and First Lady Michelle Obama to address the range of challenges preventing adolescent girls from attending and completing school. The initiative seeks to support the 62 million girls – half of whom are adolescent—who are currently out of school to pursue educational opportunities. As part of its mission, Let Girls Learn – through the Peace Corps – will release monthly training manuals to support its staff and gender equality programs worldwide.
"Supporting gender equality and education for girls are issues I care deeply about," said Shunee Yee, President and CEO of CSOFT International Ltd. "I strongly believe strong female leadership can make the world a better place."
At the Let Girls Learn Event Celebrating International Women's Day on March 8th, First Lady Michelle Obama reminded listeners that "The ability to read, write, and analyze; the confidence to stand up and demand justice and equality; the qualifications and connections to get your foot in that door and take your seat at that table — all of that starts with education."
Let Girls Learn and CSOFT International have partnered to translate these manuals for a global audience. CSOFT will lead the first round of translation beginning with Spanish, followed by French and several other languages to ensure that the message of the campaign reaches the far corners of the world.
"CSOFT is very excited to have a role in bringing the message of girls' education to the world," added Yee who attended the 2015 Fortune's Most Powerful Women Summit in Washington D.C., where Michelle Obama spoke about Let Girls Learn.
Yee is no stranger to promoting female empowerment. Since founding CSOFT International in 2003, she has led the company to double digit annual growth. Yee was a 2009 recipient of the prestigious international Stevie Award for Best Asian Entrepreneur for Women in Business. In 2012, she was named one of Fortune's Most Powerful Women Entrepreneurs.
About CSOFT International
CSOFT International Ltd. is a world leader in localization and globalization consulting services, providing turnkey solutions for companies facing the challenges of engaging customers and markets across linguistic and cultural barriers. Recognized as one of the Top Innovative Companies in 2011 by IDC we have an award-winning international team. In 2012, the company's CEO was named one of Fortune Magazine's 10 Most Powerful Women Entrepreneurs and a Tech Disruptor by CNN Money.