Company Becomes One of Just Three to Earn Coveted Award from Industry Giant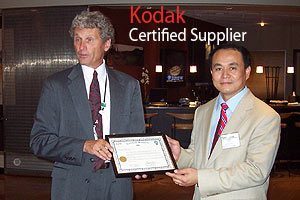 Beijing, China (August 7, 2008) – "CSOFT is extremely proud to receive Eastman Kodak Certified Supplier recognition award," said Shunee Yee, CSOFT President and CEO.
CSOFT International Ltd., a leading provider of multilingual localization, testing and outsourced software development for the global market, announced that it has received the coveted 'Certified Supplier' recognition award from the Eastman Kodak Company. Yee continued, "This award demonstrates our strong commitment and ability to deliver consistent and quality localization solutions that enable our customers to deploy products and services in global markets better and faster. We are continuously harnessing the power of our extensive experience, knowledge, expertise, technology and resources to generate continuous improvements that make a difference in ROI for our clients' globalization efforts."
The supplier recognition award is part of Eastman Kodak's process that encourages suppliers to strive for excellence and continuous improvement. It examines the depth, breadth and maturity level of the quality and operational management systems of a company in pursuit of this prestigious recognition. "CSOFT meets all, and in many cases exceeds the requirements for a broad, mature and well deployed quality management system" commented Peter Bartell, Supplier Quality Manager at Eastman Kodak.
"Only about 25% of Eastman Kodak suppliers have achieved this distinction," added Ric Gonzalez, Kodak's Vice President, Global Shared Services. "And of that number, only three Professional Services suppliers have reached the goal, with CSOFT being one of the three! We want to thank CSOFT for providing Kodak with a service level that warrants supplier certification. Congratulations to the entire CSOFT team for the excellent support of Kodak projects."
"The Eastman Kodak certification signifies that CSOFT has consistently achieved outstanding performance for the company in the areas of quality, delivery, lead time, and productivity." added Yee, "Providing quality solutions with excellent service is our highest priority and we are encouraged by this recognition of our efforts. CSOFT will continue to exceed Kodak's expectations with regards to quality and productivity, and we look forward to many more successful years of being a trusted partner with Eastman Kodak."
With a focus on technical innovation and customer service, CSOFT is increasingly becoming a vendor of choice for quality and competitive multilingual localization solutions among Fortune 500 companies. For more information on CSOFT, please visit: www.csoftintl.com.
About CSOFT International
CSOFT International Ltd. is a world leader in localization and globalization consulting services, providing turnkey solutions for companies facing the challenges of engaging customers and markets across linguistic and cultural barriers. Recognized as one of the Top Innovative Companies in 2011 by IDC we have an award-winning international team. In 2012, the company's CEO was named one of Fortune Magazine's 10 Most Powerful Women Entrepreneurs and a Tech Disruptor by CNN Money.