Benjamin Pinney joins CSOFT and will Lead Firm's Consulting Arm to Address the Challenges Facing Companies Going 'East to West'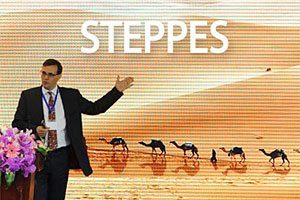 Beijing, China (June 8, 2012) – CSOFT International Ltd., a global communications company, announced today the formal launch of Steppes, the company's new consulting arm. CSOFT Steppes will deliver full-service, globalization support to Asia-based companies looking to advance in world markets. To lead this initiative, CSOFT has brought in Asia business strategist Benjamin Pinney, Ph.D. as Vice President, Globalization Services.
"At the moment, 80% of CSOFT's business is from U.S. and European companies looking to go global or already operating globally," said Ms. Shunee Yee, President and CEO of CSOFT. "The next wave of 'globalizers' will come from the East. With Steppes, we are providing an end-to-end solution helping those companies go global, from first plans to getting their products on shelves."
CSOFT's Steppes focuses on the "how" of globalization. "White papers and rule books will not create the next generation of global leaders," Pinney commented. "The winners will be set apart by superior capabilities." Steppes will build on CSOFT's strengths as a provider of localization platforms and services, adding support to branding and image, people and culture, and system and process development.
"CSOFT today delivers against the most pressing localization challenges facing clients in fast-cycle, highly regulated, and information-intensive industries — Steppes extends that support," continued Pinney. "Steppes bridges the gap between the desire to 'go global' and taking action. This is about de-risking and acceleration for China and Asia-based companies as they take bigger roles on the global stage."
A former Principal with The Boston Consulting Group, Pinney will be based in CSOFT's Shanghai office. In addition to his role as Vice President, Globalization Services he will serve as General Manager for CSOFT's Shanghai operations.
Pinney holds a Ph.D. from MIT, where his research focused on the management of research and engineering programs. He also holds a Masters of Architecture from Princeton University and a B.A. magna cum laude from Williams College.
About CSOFT International
CSOFT International Ltd. is a world leader in localization and globalization consulting services, providing turnkey solutions for companies facing the challenges of engaging customers and markets across linguistic and cultural barriers. Recognized as one of the Top Innovative Companies in 2011 by IDC we have an award-winning international team. In 2012, the company's CEO was named one of Fortune Magazine's 10 Most Powerful Women Entrepreneurs and a Tech Disruptor by CNN Money.