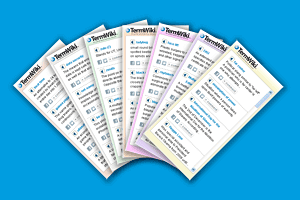 Beijing, China —CSOFT International, a global communications company, announced today the long awaited release of TermWiki Widget, an innovative solution that allows companies to display TermWiki's three million terms right on their website. With TermWiki Widget, companies no longer have to worry about visitors leaving their site to look something up.
"Not only can companie retain visitors to their site with TermWiki Widget, they can also improve SEO by having all of these terms listed on their homepage," commented Carl Yao, CSOFT's Executive Vice President for Global Strategy. "It's a win win for websites and users. TermWiki Widget revolutionizes the way web visitors look up references as they browse the Internet."
With TermWiki Widget, businesses and individual website owners can syndicate free content from TermWiki.com, a fast growing social knowledge network powered by users and businesses alike. By adding a TermWiki Widget to their sites, businesses make it easy for visitors to obtain key information about important terms right on the page without having to visit a separate reference site. In addition, companies can raise SEO and market exposure as search engines recognize and index the keywords shown in the Widget as part of the host website content.
With just six simple steps, companies can implement TermWiki Widget which gives its users access to TermWiki, a site that allows individuals and organizations to share terms and glossaries for their industry and subject fields in an open and collaborative platform. These terms are then translated into over 100 languages by professional translators from around the world on a voluntary basis.
"In today's global economy, companies can no longer afford to distribute information online in a single language," add Yao. "TermWiki Widget makes it possible for companies to display key concepts in multiple languages easily, completely free of charge."
Users have many options for what to display in the widget, including glossaries they have personally put together on TermWiki, product or project specific terms and definitions in their TermWiki Pro account, or by using pre-prepared industry-specific glossaries already on the site.
To help global adoption of the TermWiki Widget, the first 100 websites that sign up by June 15, 2012 to deploy TermWiki Widget automatically qualify for three months free subscription to TermWiki Pro, a secure and enterprise terminology management system.
To learn more about TermWiki Widget, visit www.termwiki.com/widget_about.
To sign up and obtain your Free TermWiki widget, visit www.termwiki.com/widget.
About TermWiki
Named one of 8 top innovative applications in 2011 by IDC, TermWiki is a fast growing social learning network aimed at sharing knowledge and connecting people with similar interests around the world.
About CSOFT International
CSOFT International Ltd. is a world leader in localization and globalization consulting services, providing turnkey solutions for companies facing the challenges of engaging customers and markets across linguistic and cultural barriers. Recognized as one of the Top Innovative Companies in 2011 by IDC we have an award-winning international team. In 2012, the company's CEO was named one of Fortune Magazine's 10 Most Powerful Women Entrepreneurs and a Tech Disruptor by CNN Money.