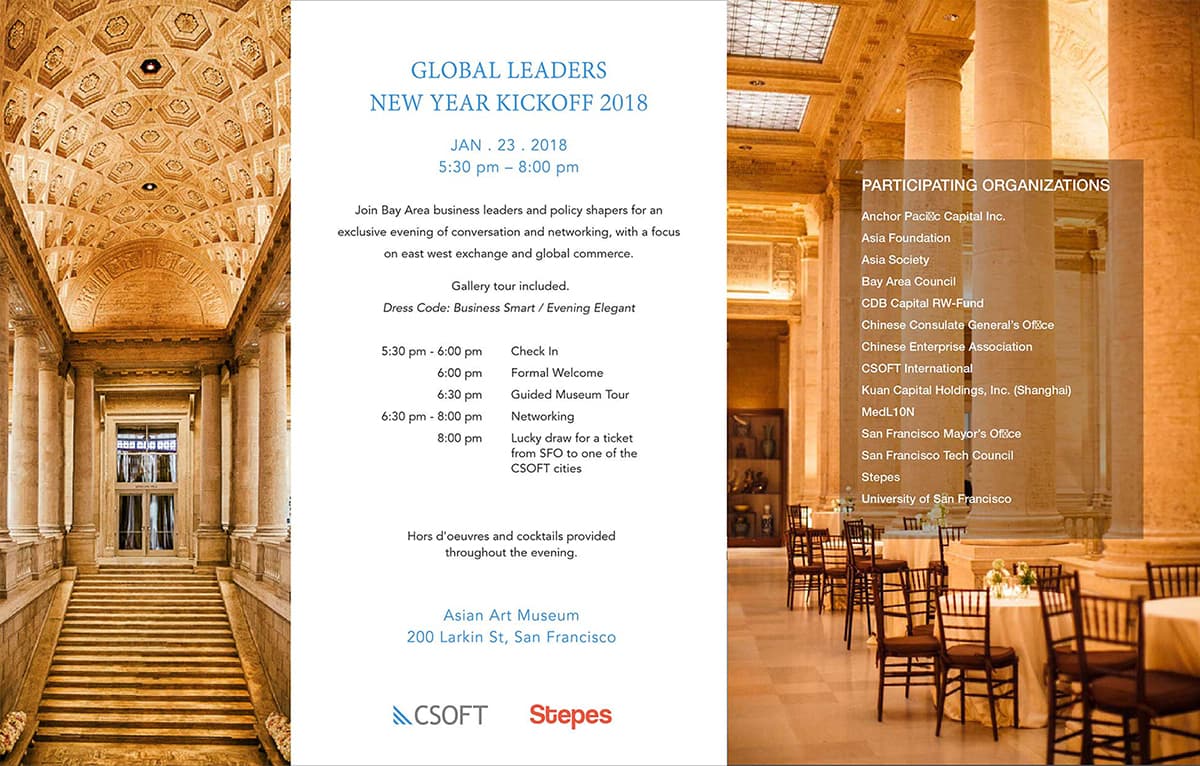 Global Leaders New Year Kickoff 2018
JAN . 23 . 2018 5:30 pm – 8:00 pm
Join Bay Area business leaders and policy shapers for an exclusive evening of conversation and networking, with a focus on east-west exchange and global commerce.
Gallery tour included.
Dress Code: Business Smart / Evening Elegant
5:30 pm – 6:00 pm: Check In
6:00 pm: Formal Welcome
6:30 pm: Guided Museum Tour
6:30 pm – 8:00 pm: Networking
Hors d'oeuvres and cocktails provided throughout the evening.
---
HOST
CO-ORGANIZERS
Asian Art Museum
San Francisco-Shanghai Sister City Committee
San Mateo China Trade Association
PARTICIPATING & INVITED ORGANIZATIONS
Anchor Pacific Capital Inc.
Asia Foundation
Asia Society
Bay Area Council
CDB Capital RW-Fund
Chinese Consulate General's Office
Chinese Enterprise Association
Kuan Capital Holdings, Inc. (Shanghai)
MedL10N
San Francisco Mayor's Office
San Francisco Tech Council
Stepes
University of San Francisco
HONORED GUESTS & SPEAKERS
Anton Qiu, Managing Partner, Anchor Paci c Capital, Inc. | Vice Chairman, San Francisco – Shanghai Sister City Committee
Baron Suen, Chairman, San Mateo China Trade Association
Da Chen, Secretary-General, Chinese Enterprises Association
Dun Lyn, Cousel of Economic & Commerce Department, Chinese Consulate General's Office
Mark Addiego, Former Mayor and City Council Member, City Council | South San Francisco
Mark Chandler, Director of International Business Commerce, Mayor's Office of San Francisco
Michael Lappen, Economic Development Director, City Council | South San Francisco
Shunee Yee, CEO, CSOFT International
Yong Wang, President, Chinese Enterprises Association
---
ABOUT CSOFT INTERNATIONAL
CSOFT International is a leader in global communications, providing turnkey solutions for companies facing the challenges of engaging customers and markets across linguistic and cultural barriers. It is recognized as a Most Innovative Company by IDC and is also ISO-certified, providing top quality localization solutions across various industries. In addition to headquarters in Beijing and San Francisco, CSOFT's award-winning multinational team has a global presence in 16 different countries with on-demand and real time human translation technology that disrupts the translation industry and helps Fortune 100 companies de-risk global operations, accelerate international growth, and reach their worldwide audience.
---
ABOUT THE ASIAN ART MUSEUM
The Asian Art Museum thrives as a bridge of understanding between east and west, and closes the gap between different cultures. The building that currently houses the Asian Art Museum opened in 1917 as San Francisco's Main Library. Designed by prominent local architect George Kelham, the building kept with the principles of beaux-arts architecture – mixing Greek, Roman, Renaissance, and Baroque styles. Currently, the AAM collection has approximately 18,000 works of art and artifacts from throughout Asia, some which go as far back as 6,000 years.