Increased Productivity Through Terminology Management
Increased Productivity Through


Terminology Management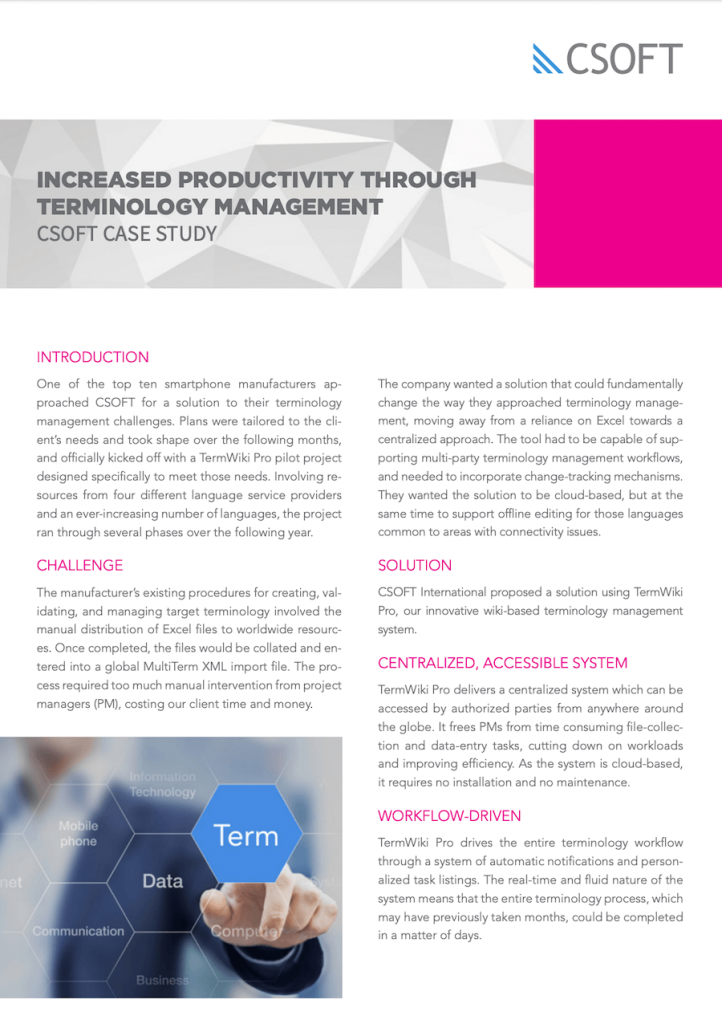 Contents
Introduction: One of the top ten smartphone manufacturers approached CSOFT for a solution to their terminology…
Challenge The manufacturer's existing procedures for creating, validating, and managing target terminology involved the manual distribution of Excel files…
Solution: CSOFT International proposed a solution using TermWiki Pro…

Centralized, Accessible System
Workflow-Driven
Collaborative Support
Easy to Use
Secure Data
Offline Editing

Conclusion: Through their adoption of TermWiki Pro, the smartphone manufacturer realized tremendous savings and efficiency improvements…
One of the top ten smartphone manufacturers approached CSOFT for a solution to their terminology management challenges.
Plans were tailored to the client's needs and took shape over the following months, and officially kicked off with a TermWiki Pro pilot project designed specifically to meet those needs.
Involving resources from four different language service providers and an ever-increasing number of languages, the project ran through several phases over the following year.
Other publications by CSOFT