Can China's Bike-sharing Companies Ride into the Global Market?
Can China's Bike-sharing Companies

Ride into the Global Market?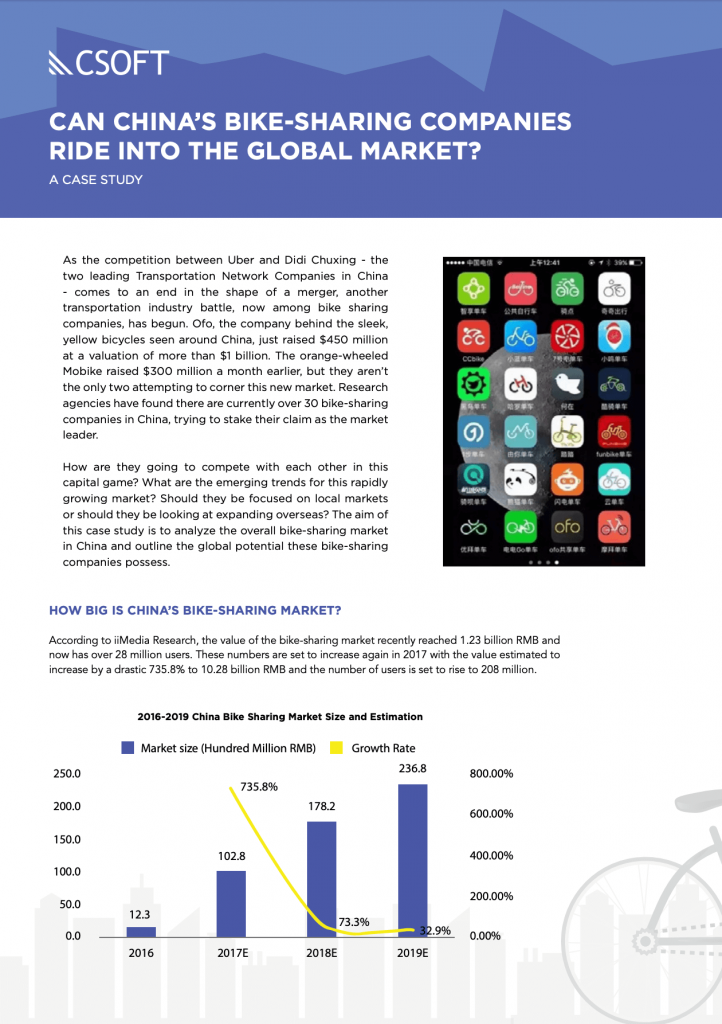 Contents
How Big is China's Bike-Sharing Market?

International Investment Into China's Top Bike-Sharing Apps

What about the Overseas Bike-Sharing Market?
Government Interference
Local Environment
Regulations and Localization

2017 Q1 China Bike-Sharing Platform User Loyalty Index

Conclusion
As the competition between Uber and Didi Chuxing – the two leading Transportation Network Companies in China – comes to an end in the shape of a merger, another transportation industry battle, now among bike sharing companies, has begun. Ofo, the company behind the sleek, yellow bicycles seen around China, just raised $450 million at a valuation of more than $1 billion.
The orange-wheeled Mobike raised $300 million a month earlier, but they aren't the only two attempting to corner this new market. Research agencies have found there are currently over 30 bike-sharing companies in China, trying to stake their claim as the market leader.
How are they going to compete with each other in this capital game? What are the emerging trends for this rapidly growing market? Should they be focused on local markets or should they be looking at expanding overseas? The aim of this case study is to analyze the overall bike-sharing market in China and outline the global potential these bike-sharing companies possess.
Other publications by CSOFT