Globalization expert hosts forum to discuss Chinese Innovation and its potential to go global
Shenzhen, China – CSOFT International has officially launched Shenzhen 100, an index ranking Shenzhen's top companies based on their potential to expand globally. The Globalization Forum, a private event on June 22nd open to policy makers, investors, and highly-vetted companies, CSOFT gave guests an exclusive look into game-changing businesses that are projected to have the greatest international success.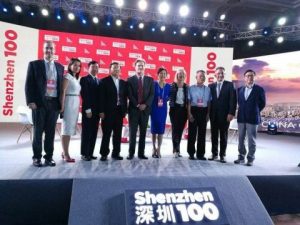 This groundbreaking initiative, developed by CSOFT and supported by local government and private enterprises, established a unique three-party effort to give China's most innovative businesses a global presence. As a leading provider of globalization solutions for Fortune 500 companies and top multinational organizations, CSOFT saw huge potential in identifying Shenzhen's most promising startups.
The forum hosted keynote speeches from Marisa Drew of Credit Suisse, Dr. Wang Huiyao (the Founder and President of Center for China and Globalization), Wang Shi the Chairman of China Vanke. Additional panel discussions and interviews were hosted by the Shenzhen100 Advisors: Bill Powell of Newsweek, Huang Youyi of Translators Association of China, Wang Zhile of the Beijing New-century Academy on Transnational Corporations, Professor He from Nanjing University, Shane Tedjarati of Honeywell, and Michael Kuan of Kuan Capital.
At the forum, CSOFT published the Executive Summary of its Shenzhen 100 report and announced its Top 10 Risers™: DJI, BGI, Kuang-Chi, Royole, Ubtech, Chipscreen, SuperD, Appotronics, Breo and Koradior.
« Business opportunities in Shenzhen have grown exponentially. The surge of cutting-edge invention and expanding startup community has really solidified the city's role as an innovation hub" said Shunee Yee, CSOFT's President and CEO. « I'm confident the Shenzhen 100 initiative will shed light on the growing impact Shenzhen companies will have across the globe."
Shenzhen has been a driving force in China's Economic Reform over the past 30 years and has quickly emerged as the country's hub for business development, technology, and innovation. While the city's entrepreneurial ecosystem is thriving, becoming a truly global company does not come easily. CSOFT will lend their expertise to Shenzhen's top companies, providing a strong foundation for success as they guide each business through the many challenges that come with global expansion.
The Shenzhen research initiative aims to serve local businesses by working with the city's policy makers to create effective strategies that will open the doors to foreign investors. CSOFT's new endeavor has been met with overwhelming support by the community. Shenzhen's entrepreneurial climate has met widespread support across the tech industry, with its rapid growth, the city has begun to rival San Francisco's Silicon Valley.
About CSOFT International
CSOFT International Ltd. is a world leader in localization and globalization consulting services, providing turnkey solutions for companies facing the challenges of engaging customers and markets across linguistic and cultural barriers. Recognized as one of the Top Innovative Companies in 2011 by IDC we have an award-winning international team. In 2012, the company's CEO was named one of Fortune Magazine's 10 Most Powerful Women Entrepreneurs and a Tech Disruptor by CNN Money.