Shenzhen, China (June 26, 2014) – CSOFT International Ltd., a leading provider of globalization and communications solutions, announced today its partnership with the Shenzhen Municipal Government and the creation of a China-wide, four week 'Global Etiquette' public service campaign. The program, which was launched on Sunday, June 22 aims to explore the mindset and etiquette required to become a truly international city. As a consultant and campaign design partner, CSOFT's President and CEO, Ms. Shunee Yee, attended the campaign's official opening launch alongside two other guests: Wu JianMin the Vice-President of the China Institute for Innovation and Development Strategy (CIIDS) and former Chinese Ambassador to France, and Julien Gaudfroy, an acclaimed Chinese television and international radio personality.
"Helping companies think globally and act locally is our area of expertise so we were incredibly excited to take part in the development and promotion of this campaign," said Yee. "When you do business cross-culturally, there are often differences in etiquette, communication and leadership styles which can impede success. CSOFT's expertise in East-to-West consulting and strategizing affords us a unique standpoint for helping China transition into its second phase of economic development."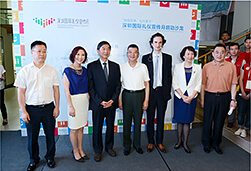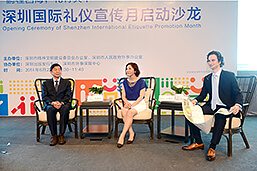 Yee, in her role as campaign collaborator and globalization expert, has been invited to give a speech sharing her experience in the field of East-West communications at the Shenzhen City Hall on Saturday, June 28. "Due to our extensive knowledge helping Fortune 500 companies tackle the linguistic, technological and branding barriers associated with going global, CSOFT understands the importance of recognizing and adapting to cultural differences," Yee added. "I am honored to have the chance to share our insight into the evolving complexities and challenges of effective globalization to better serve Chinese companies expanding overseas. With the right mindset and global awareness, nothing is out of reach."
Historically, Shenzhen has been a pioneer for China's economic reform and growth, and the kick-off of this campaign signifies that the city will continue to lead the way for China's expansion into more sophisticated markets. As Shenzhen-headquartered companies such as TCL, China Merchants Bank, Tencent and Huawei are demonstrating, China is moving away from cheap manufacturing and focusing instead on innovation and technology, meaning this kind of program has never been more crucial. The campaign's significance was summarized by Tang Lixia, Director of the Foreign Affairs Office of the Shenzhen Municipal Government saying, "Each citizen of Shenzhen is a direct reflection of our city; in order to improve the reputation and quality of Shenzhen we must help our citizens to expand their minds by providing them with as much global know-how as possible."
About CSOFT International
CSOFT International Ltd. is a world leader in localization and globalization consulting services, providing turnkey solutions for companies facing the challenges of engaging customers and markets across linguistic and cultural barriers. Recognized as one of the Top Innovative Companies in 2011 by IDC we have an award-winning international team. In 2012, the company's CEO was named one of Fortune Magazine's 10 Most Powerful Women Entrepreneurs and a Tech Disruptor by CNN Money.