Hong Kong, China (November 12, 2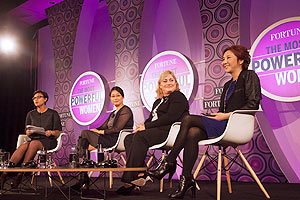 013) – CSOFT International Ltd., a global communications company and leading provider of multilingual globalization services and language technology solutions, announced today that CSOFT President and CEO Ms. Shunee Yee will speak at the inaugural Fortune's Most Powerful Women Asia meeting on Tuesday, November 12 at 4:45pm at the Ritz-Carlton in Hong Kong. In 2012, Fortune named Yee as one of the top ten Most Powerful Women Entrepreneur and CNN Money called her a top 36 Tech Disruptor.
The Fortune MPW Asia conference gathers the region´s most prominent women leaders in business, and will include speakers from Morgan Stanley, Tata Starbucks, Coca Cola, and more. Yee, along with Jennifer Li, CFO of Baidu and Renée James, President of Intel, will lead a panel on ways to increase innovation and corporate competitiveness. Fortune´s Deputy Managing Editor Stephanie Mehta will moderate.
This event also marks the eighth stop on CSOFT´s 10-city tour, "10-10-10," a 10-city roadshow of ten events, celebrating ten years of phenomenal growth. 10-10-10 tour stops to date include:
April
1) Providence, RI – CSOFT´s EVP for Global Strategy Carl Yao speaks at DITA show
May
2) Mt. Everest, Nepal – CSOFT´s Ruben Payan carries company´s flag to the summit of the world´s highest peak
June
3) Istanbul, Turkey – Yee attends Dell´s Women Conference Paying it Forward
4) Beijing, China – CSOFT kicks´ off its 10th Annual World Summit at Capital M
5) Sanya, China – CSOFT executes two-day Annual World Summit on The How of Global Success with speakers from GSK, Halliburton, Nielson, Halliburton, GSK, WD and more
October
6) Silicon Valley, CA – CSOFT´s VP of Globalization Services Ben Pinney speaks at Localization World on shifts in the globalization industry
November
7) New York City, NY– CSOFT Business Development Director Rin Yang attends Stevie Awards dinner and Yee is recognized as a lead judge for the event
8) Hong Kong, China –Yee speaks at Fortune MPW Asia event
CSOFT´s last two 10–10–10 tour stops include Shenzhen in December, for its newest office opening, and Shanghai in January for the Chinese New Year.
About CSOFT International
CSOFT International Ltd. is a world leader in localization and globalization consulting services, providing turnkey solutions for companies facing the challenges of engaging customers and markets across linguistic and cultural barriers. Recognized as one of the Top Innovative Companies in 2011 by IDC we have an award-winning international team. In 2012, the company's CEO was named one of Fortune Magazine's 10 Most Powerful Women Entrepreneurs and a Tech Disruptor by CNN Money.