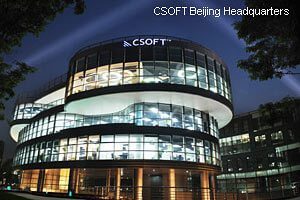 Beijing, China (May 6, 2008) – CSOFT International, Ltd., a leading provider of multilingual localization, testing and software development announced today the opening of its new Beijing headquarters. The facility, located in Beijing's rapidly developing east side, will accommodate CSOFT's growing team of more than 350 employees and expansion of globalization services to its clients. CSOFT provides a broad range of language and technology solutions in more than 90 languages to the IT, Life Sciences, Manufacturing, Automotive, and Financial Services industries.
"The new headquarters office represents a significant development in CSOFT's growth," said Shunee Yee, CSOFT President and CEO. "The new multi-floor office building allows us to have a modern, state-of-the-art facility to support large and complex projects with improved IT infrastructure and network performance."
CSOFT's new 75,000+ square foot headquarters is situated in one of Beijing's handful of tree-lined business parks. The cutting edge facility affords the latest technology including fiber optic networks, secure cleanrooms for testing and audio/video conference pods for more effective international communication. In keeping with CSOFT's commitment to fostering an innovative corporate culture the company employs an executive chef for their in-house café, a large recreation center, massage therapy and even a high-tech media and e-learning lab.
Over the past six months, CSOFT has opened international offices in Dusseldorf, Toronto and Shanghai and now has a total of eleven offices worldwide. CSOFT has experienced an annual growth rate in excess of 100% each of the past five years and boasts an impressive customer base that includes over fifty Fortune 500 companies.
CSOFT's new headquarters is located at Bldg. 26, #1 Wuliqiao, Chaoyang North Road, Beijing, China. In addition to its new Beijing HQ, CSOFT has additional offices located in Shanghai, Hong Kong, Dusseldorf, Osaka, Melbourne, Toronto, Boston, Chicago, Memphis and San Francisco.
About CSOFT International
CSOFT International Ltd. is a world leader in localization and globalization consulting services, providing turnkey solutions for companies facing the challenges of engaging customers and markets across linguistic and cultural barriers. Recognized as one of the Top Innovative Companies in 2011 by IDC we have an award-winning international team. In 2012, the company's CEO was named one of Fortune Magazine's 10 Most Powerful Women Entrepreneurs and a Tech Disruptor by CNN Money.