Globalization Firm Chosen for its Commitment to Excellence in Service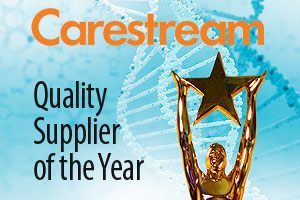 Beijing, China (April 2, 2013) – CSOFT International Ltd., a global communications company and leading provider of multilingual globalization services and language technology solutions, announced today Carestream Health Inc. has chosen CSOFT as its Quality Supplier of the Year.
"In the life sciences industries, there is no room for error in the translation of technical content," said Carl Yao, CSOFT's Executive Vice President for Global Strategy. "To be recognized by one of the world's leading providers of health care solutions lets us know we are doing our job, and meeting the high bar the industry demands when delivering localization services to our customers."
Carestream, a worldwide provider of dental and medical imaging systems and healthcare IT solutions, selected CSOFT for consistently surpassing Carestream's expectations through innovation and delivery of on-time, quality service. Past winners include CVS/Caremark, MVP Healthcare, and Metropolitan Life among others.
"CSOFT's role in our continued expansion into world markets has played an integral part in Carestream's 2012 success," said Bill Hochadel, Worldwide Commodity Manager at Carestream. "Having a partner like CSOFT has enabled us to steadfastly meet our top priority of delivering world-class service to our customers."
About CSOFT International
CSOFT International Ltd. is a world leader in localization and globalization consulting services, providing turnkey solutions for companies facing the challenges of engaging customers and markets across linguistic and cultural barriers. Recognized as one of the Top Innovative Companies in 2011 by IDC we have an award-winning international team. In 2012, the company's CEO was named one of Fortune Magazine's 10 Most Powerful Women Entrepreneurs and a Tech Disruptor by CNN Money.