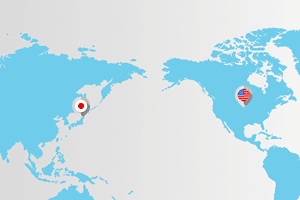 Beijing, China – CSOFT International Ltd., a leading provider of multilingual localization and globalization services outsourced software development for the global market, announced today the hiring of Mr. Uwe Muegge and Mr. Hirotoshi "Jerry" Ono as part of their U.S. and Shanghai expansion plans. Muegge joins as Director of CSOFT's MedL10N division which specializes in medical translation and localization solutions for the life sciences industry. Ono is the Director of CSOFT Shanghai Business Unit, focusing on the development of the Japanese market and the greater Asia region.
"I am thrilled to bring both of these industry veterans on board, to further strengthen our life sciences division and Shanghai team,"said Ms. Shunee Yee, President and CEO of CSOFT.
Muegge's expertise in the life sciences field spans more than ten years in the translation and localization industry. As Director of CSOFT's MedL10N division, which is managed out of CSOFT's Upper Midwest office, Muegge oversees the life sciences globalization team and serves as the main point of contact for CSOFT's life sciences clients. Prior to joining CSOFT, Muegge lead terminology and machine translation efforts at one of the world's largest medical devices companies. A pioneer in the domain of automatic language processing, Muegge designed state-of-the-art translation workflows and processes for the company, employing Lean-Sigma methodologies.
"One of the key strengths Uwe brings to CSOFT's MedLION efforts is his expertise in the regulatory area,"continued Yee. "He is intimately familiar with the strict quality requirements involved in translating for regulatory submissions, a critical component in the localization process for the life sciences industry."
Muegge writes regularly about translation technology and translation quality, and is the author of "Translation Contract: A Standards-Based Model Solution." In addition to his role at CSOFT, Muegge teaches at the Monterey Institute of International studies, the leading training institution for translators in the United States, and also serves as a member of the U.S. delegation to the International Organization for Standardization (ISO). Muegge holds master's degrees in Telecommunication and German Translation from the University of Oregon and the Monterey Institute of International Studies, respectively. He is based in Minneapolis, Minnesota.
In addition to hiring Muegge, CSOFT recently brought on Hirotoshi Ono as Director of the Shanghai Business Unit. As Director of the Shanghai office, which opened one year ago in the heart of the Lujiazui financial district, Ono oversees the team that manages globalization efforts for CSOFT's Shanghai based clients. CSOFT's clients in this territory comprise several Fortune 500 companies, including Sony, Intel and Lenovo.
"Our Shanghai office continues to grow at a rapid pace as we support several large scale globalization projects,"added Yee. "Jerry's expertise in managing globalization strategies at Microsoft combined with his business development experience at CleNet, make him the ideal candidate to lead this team as we continue to expand."
Prior to CSOFT, Ono served as the Channel Sales Manager at Microsoft China for four years. At Microsoft, his responsibilities included implementation and localization of the global channel strategy for Microsoft. Earlier, he was Business Development Director at CleNet Technologies. Fluent in Japanese, English and Chinese, Ono earned a BS degree in Computer Science from the University of London and a Master's degree in Business Studies from the University of Sunderland, UK.
CSOFT provides a broad range of language and technology solutions in over 90 languages for a variety of industries such as IT, Life Sciences, Manufacturing, Automotive, and Financial Services. CSOFT has one of the largest technical resources in Asia with a global network of operations spanning Boston, San Francisco, Japan, Germany, Canada and Australia as well as language teams in all major European and Asian markets. This unique background allows CSOFT to provide quality and affordable globalization solutions that are both scalable and flexible.
About CSOFT:
CSOFT International Ltd. is a leading provider of globalization solutions to the Fortune 1000, ranging from translation and localization services to branding and market entry strategies. Recognized as one of the Top Innovative Companies in 2011 by IDC and one of the Top 5 Language Service Providers worldwide, CSOFT delivers quality-driven localization and language solutions with fanatical customer service, ISO-certified processes, and an award-winning multinational leadership team. In 2012, the company's CEO was named one of Fortune Magazine's 10 Most Powerful Women Entrepreneurs and a Tech Disruptor by CNN Money.
Media Contacts:
Megan Robinson
+1-415-889-8989 (U.S./Europe)
megan.robinson@csoftintl.com
Daniel Yao
+86-10-5736-6000 (Asia)
daniel.yao@csoftintl.com