Language localization is a service that makes sure nothing gets lost in translation, not least of all company reputation, says entrepreneur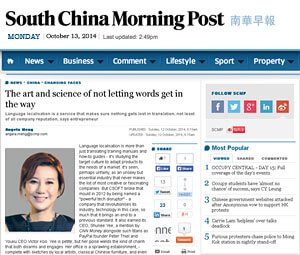 Language localization is more than just translating training manuals and how-to guides – it's studying the target culture to adapt products to the needs of a market. It's seen, perhaps unfairly, as an unsexy but essential industry that never makes the list of most creative or fascinating companies. But CSOFT broke that mould in 2012 by being named a "powerful tech disruptor" – a company that revolutionises its industry, technology in this case, so much that it brings an end to a previous standard. It also earned its CEO, Shunee Yee, a mention by CNN Money alongside such titans as PayPal founder Peter Thiel and Youku CEO Victor Koo. Yee is petite, but her poise wields the kind of charm that both disarms and engages. Her office is a sprawling establishment, – complete with sketches by local artists, classical Chinese furniture, and even a pool table – in the heart of Beijing's business district.
Why did you choose China?
Whether companies are selling products worldwide, or opening a new factory, there is an intersection between technology transfer and language. This is a new era of global communications; it's about excelling in global trade. Traditionally all those global communications companies are centred in the US or Europe. We chose China, strategically, to be headquartered. We know it's challenging, because of intellectual property and other issues. We are a new challenger, like being the first generation of global communications companies. Most Fortune 500 companies have products released worldwide, but in the last couple of years, we've seen a new rise in Chinese companies going global. That's where we saw a potential for growth. In our early days, we also saw that China had a very large talent pool that we could tap. We decided not to join the price war. I remember the only big Chinese company we served in the early days; they were selling their products in Japan. They came to us and asked: "This is just translation, why is it so expensive?" We said we don't do just penny translations over the table; we want to localize your products. So they left and came back a few months later, and paid us the exact price we asked for. The demand for localization has grown so quickly in the past few years. We serve Huawei, Beijing Automotive and a dozen large local companies here.
What makes this industry so special for you?
Translation is hundreds of years old. If you look at the global economy, people are launching global businesses by launching their products, or building their factories, or striking a cross-border deal. The space that we are in is the intersection of language and technology, because when you are sending language to a different market, you have to ask not only how the language can be transferred, but also how the company can comply with local policies. I always ask my typical Chinese customer: "Are you handling your language properly, effectively, in your global launch?" Our Chinese customers do not consider language a part of their product. Chinese are frustrated over why their products are considered cheap. I told them it's because your language is not there; the installation guide is not there; people don't understand your product. There are also a legal impact as well as regulatory requirements. Chinese customers often fail on this. This is what we call localization: it is beyond just words; it is local insight and how we present something. We handle more than 100 different languages. But we use proper words images that do not offend anyone.
Click here to read the full article.
About CSOFT International
CSOFT International Ltd. is a world leader in localization and globalization consulting services, providing turnkey solutions for companies facing the challenges of engaging customers and markets across linguistic and cultural barriers. Recognized as one of the Top Innovative Companies in 2011 by IDC we have an award-winning international team. In 2012, the company's CEO was named one of Fortune Magazine's 10 Most Powerful Women Entrepreneurs and a Tech Disruptor by CNN Money.