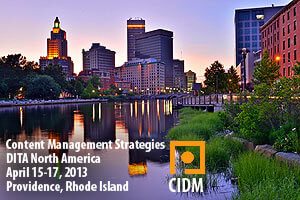 CMS/DITA is a gathering of some of the biggest names in content management, including Adobe and CIDM. For those unfamiliar with the term 'content management,' according to TermWiki, it is the "process of managing, organizing, storing, tracking ownership of, and distributing information." Given today's technological advances, when people refer to content management they generally mean online and digital content. CSOFT will be there to promote our multilingual content and terminology management services, as well as our localization and globalization capabilities.
In addition to exhibiting, on Tuesday April 16th at 10:35 AM, CSOFT's VP of Global Strategy, Carl Yao, is giving a presentation on Managing Terminology to Meet Global Regulatory Compliance Requirements. In this presentation, he will discuss how a mistranslated term cost a business $71 million – it pays to properly manage your terminology, folks!
And if that's not enough excitement, on Tuesday evening, CSOFT will also be kicking off the first of 10 worldwide celebrations to commemorate our 10 Years. As one of the first cities founded in the US, Providence serves as a prime location to get the party started. We're excited to host our clients and business contacts for an evening of festivities and refreshments. Let us know if you're in the area and would like to join!
Click here to the see original interview.
About CSOFT International
CSOFT International Ltd. is a world leader in localization and globalization consulting services, providing turnkey solutions for companies facing the challenges of engaging customers and markets across linguistic and cultural barriers. Recognized as one of the Top Innovative Companies in 2011 by IDC we have an award-winning international team. In 2012, the company's CEO was named one of Fortune Magazine's 10 Most Powerful Women Entrepreneurs and a Tech Disruptor by CNN Money.