Globalization Leader Brings in Industry Executives and Asia Business Experts from Corel, Foton, Halliburton, Microsoft, FORTUNE and More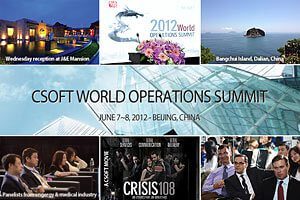 Beijing, China (June 7, 2012) — CSOFT International Ltd., a global communications company, announced today the commencement of its 9th Annual Operations Summit. The Summit serves as an opportunity for CSOFT to gather its global team members, lead linguists, industry experts, clients and business associates for an information and cultural exchange centered on the opportunities and complexities of globalization and managing across markets. All Summit conferences will be held at the CSOFT headquarters in Beijing's Central Business District from June 7 to June 8.
"What started out as a two day internal team building session at our first Summit, has evolved into a forum for exchange between business leaders, members of the media, and CSOFT's experts in linguistics, language technology, localization and globalization," said Ms. Shunee Yee, President and CEO of CSOFT. "This year, our esteemed speaker panel will address topics such as the global economy, vertical industries including the Energy and Automotive sectors in China, key trends in East to West business relations and more. It is going to be a fantastic week of dialogue and discussions."
The list of speakers and panelists at CSOFT's 2012 Summit include among others:
• 
BAIC
, BATC — Vice President of BAIC and President of BATC, Gu Lei
• 
Corel
—Localization Manager, Yan Ma
• CSOFT — Senior Translation Tools Strategist,
Uwe Muegge
• 
FORTUNE
— China Bureau Chief, Bill Powell
• Kingstron Bio — Co-founder and CEO, Sam Zhong
• LISA — Former Director, Michael Anobile
• 
Microsoft
— Asia Pacific Executive Director, Will Knight
This year's Summit will also focus on innovative technology solutions designed to improve translation quality and efficiency, translation automation with translation memory and machine translation technology, multilingual terminology management, MT post-editing, transcreation, and the cloud translation model.
To follow CSOFT's Summit events, please go to Twitter @localisation under #CSOFT2012.
About CSOFT International
CSOFT International Ltd. is a world leader in localization and globalization consulting services, providing turnkey solutions for companies facing the challenges of engaging customers and markets across linguistic and cultural barriers. Recognized as one of the Top Innovative Companies in 2011 by IDC we have an award-winning international team. In 2012, the company's CEO was named one of Fortune Magazine's 10 Most Powerful Women Entrepreneurs and a Tech Disruptor by CNN Money.