Communication: Advancing Your Globalization Strategy
As the world gets smaller, the stakes grow higher. The speed of growth and change only intensifies the pressure to de-risk your global business communications.
With 10,000 in-country linguists, cultural specialists, and subject matter experts in 14 offices across Asia, Europe, and the Americas, CSOFT is one of the leading providers of globalization and cross-border communication solutions.
We understand the urgency and importance of consistent, effective, and relevant messaging. Using sophisticated, proven market discovery techniques, we help global companies anticipate and overcome cross-culture and cross-border barriers with both internal and external communications. Our ongoing support includes knowledge, systems, and training across all relevant media, including print advertising, public relations, web content, and brand engagement collateral.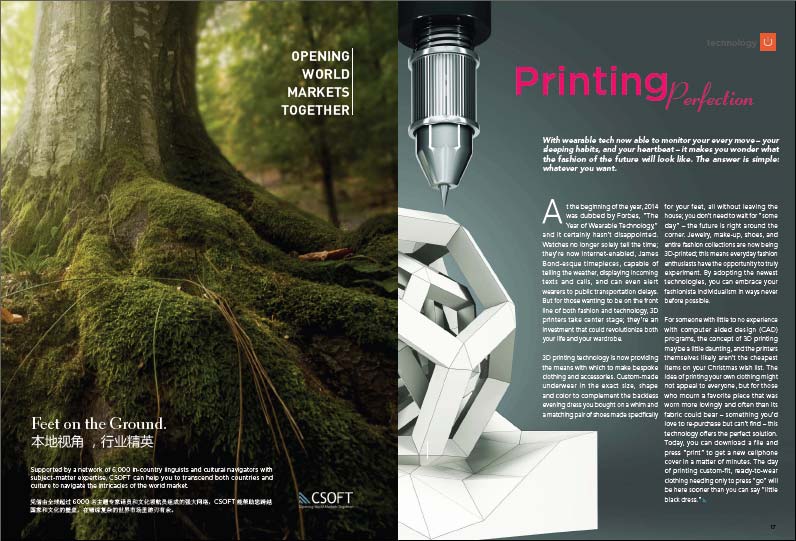 Globalization opportunities have never been greater but communication missteps are to be expected. Only the most well-advised companies can skillfully navigate the world's diverse global markets, while addressing any missteps and securing increased market share.
To gain—and keep—a competitive advantage, companies need comprehensive communication strategies that are culturally-specific and easily deployable in both developing and emerging markets.
Only CSOFT's worldwide, on-the-ground resources combined with our integrated communication solutions address all forms of internal and external communication. We help you assess needs and gaps, develop people and processes, and put the right tools to work, ensuring quick and seamless implementation while avoiding the costly pitfalls of miscommunication.
Whether it's corporate branding or day-to-day communications, our experienced consultants will guide you through the nuances of linguistic, cultural, and geographic boundaries with confidence. Why put your success at risk with communications that aren't world-ready? With CSOFT, you'll safely branch into unfamiliar territories, move freely across linguistic and cultural borders.