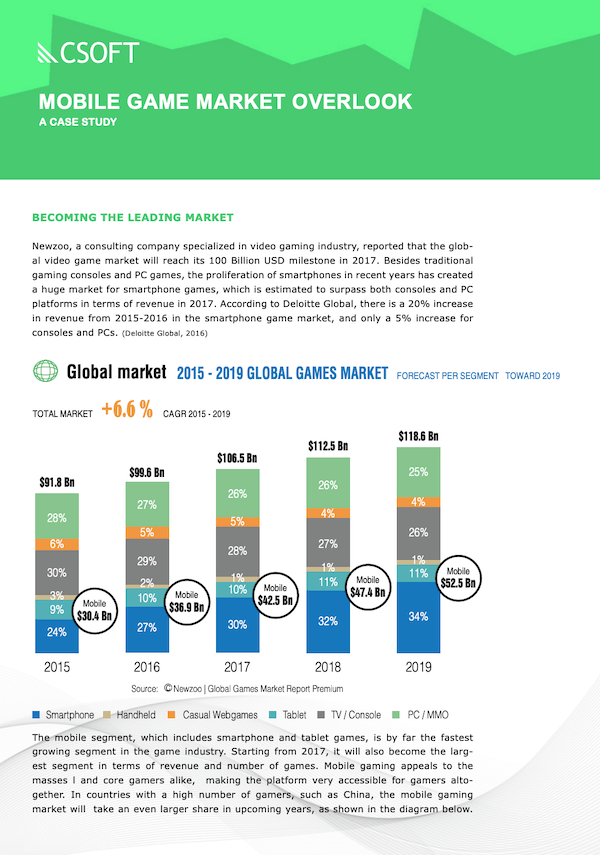 Contents
Becoming the Leading Market
Global market
China market
Yet Less Profitable. Based on the data provided by Deloitte Global, by the end of 2016, approximately 1.75 billion out of the total 2.78 billion smartphones and tablets were used to play games…
How to stand out in competitive market? One of the most effective methods of standing out is to expand your market to a global scale while localizing your game to fit cultural needs…

Research the market and determine if it has money to spend.
Quality and speed is the key to winning the market
Watch out for cultural norms
Get translators who are gamers
Newzoo, a consulting company specialized in video gaming industry, reported that the global video game market will reach its 100 Billion USD milestone in 2017.
Besides traditional gaming consoles and PC games, the proliferation of smartphones in recent years has created a huge market for smartphone games, which is estimated to surpass both consoles and PC platforms in terms of revenue in 2017.
According to Deloitte Global, there is a 20% increase in revenue from 2015-2016 in the smartphone game market, and only a 5% increase for consoles and PCs.
Other publications by CSOFT