Global Mergers and Acquisitions
Mergers and Acquisitions are high-wire balancing acts that require deft management and sophistication across a number of disciplines, in whatever country they take place. Managing an M&A across borders, however, adds many more layers of complexity. Many globally successful companies find themselves unprepared for the cross-cultural differences that they inevitably run into when working in unfamiliar regions.
That's why the expertise of CSOFT is invaluable.
We help our clients identify, assess, and work around inherent cultural and behavioral communication differences that could threaten to derail global M&A initiatives.. Together, we proactively address issues that could become stumbling blocks to successful negotiation during your cross-border deal evaluation.
Avoiding Cultural Deal Breakers
Through an end-to-end process that covers pre-M&A due diligence, post-M&A integration, and real-time communication among stakeholders, we pinpoint and evaluate a host of elements that could impede progress. These include executive and employee backgrounds and motivations, corporate communications, workplace cultures and dynamics, and hidden hierarchies and allegiances that may be deeply rooted in a specific culture.Through this discovery process we build action-oriented checklists and associated strategies and programs that minimize risk and accelerate globalization timetables. Our state-of-the-art Virtual Data Room (VDR) provides secure, accessible, and up-to-date communication to key project stakeholders.
At CSOFT, we have the deep, experience-based knowledge and the time-tested solutions to put our multinational clients in a position for global M&A success.
M&A
Due Diligence
Cultural Perspectives
Integration
Deal Evaluation
Insights
Cultural Barrier
Communication Barriers
Global Risk
Cross Cultural Success
Globalization
Corporate Development
Cross Border
Cross Culture
Mergers
Acquisitions
Corporate Development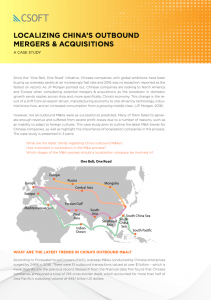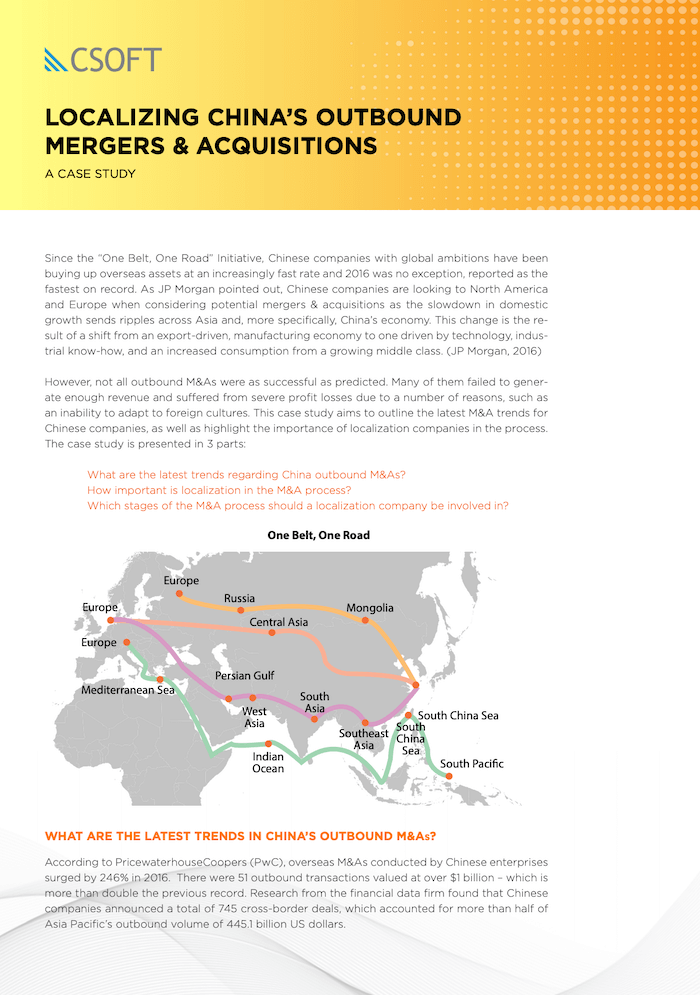 …Chinese companies are looking to North America and Europe when considering potential mergers & acquisitions as the slowdown in domestic growth sends ripples across Asia and, more specifically, China's economy.