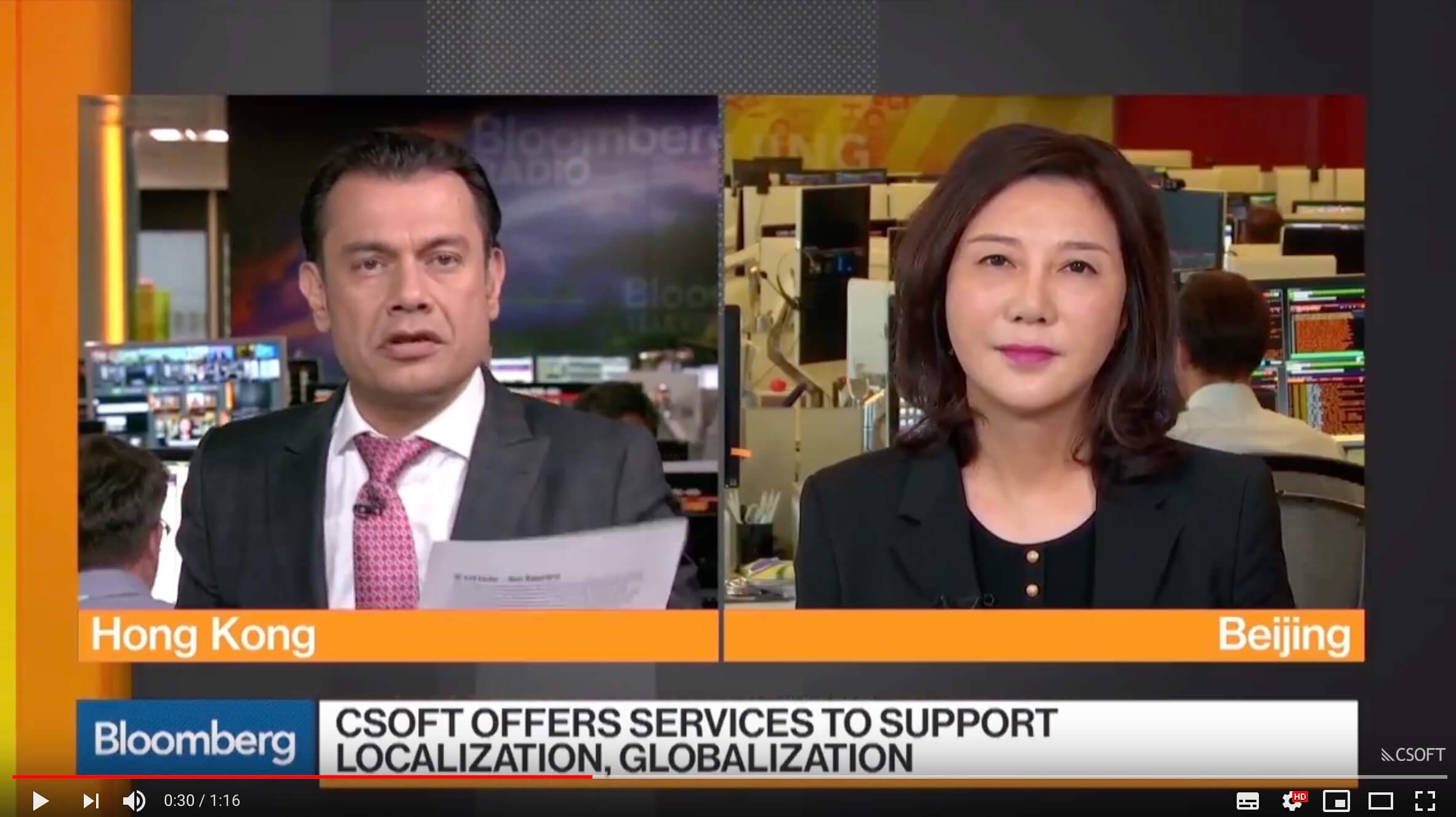 CSOFT's Founder & CEO Shunee Yee, talked about its expertise in "translating" brands, products, and operations on "Bloomberg Markets: Asia" this morning.
Interviewed by Hong Kong-based anchor, Rish Salamat who recently interviewed the CEO of Uber, Travis Kalanick, and Sydney-based Haidi Lun, Shunee described CSOFT as the « Uber of language services » and explained how more than 50% of the world's population speaks more than two languages. By utilizing technology and these skill assets, people around the world can have instant access to live-translation services.
According to Shunee, in the past only large multinational companies were able to enjoy the luxuries of expanding internationally. However, with the rapid development of the Internet and technology, any sized company anywhere in the world is able to compete in the international market, and as a result, translation needs for globalizing businesses are accelerating.
According to CSOFT, China's companies going global are facing different types of challenges than when most Fortune 500 companies from matured markets internationalized their products in the 80s or 90s. In addition to overcoming technical, linguistic, and cultural barriers, Chinese companies are facing a much more complex political and geo-economic environment today. On top of that, the digital revolution demands today's products and information to reach global audiences instantaneously.
About CSOFT International
CSOFT International Ltd. is a world leader in localization and globalization consulting services, providing turnkey solutions for companies facing the challenges of engaging customers and markets across linguistic and cultural barriers. Recognized as one of the Top Innovative Companies in 2011 by IDC we have an award-winning international team. In 2012, the company's CEO was named one of Fortune Magazine's 10 Most Powerful Women Entrepreneurs and a Tech Disruptor by CNN Money.