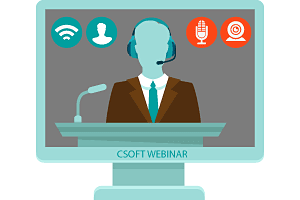 June 16, 2010 – In this CSOFT webinar, Carl Yao, the Executive Vice President of CSOFT International, will tell you about the new approach to terminology management. No spreadsheets, no terminologists—here's a simpler, more powerful approach that will save you a lot of time and tons of money.
In just 30 minutes, you will learn: how to streamline collaborative development; how to manage the terminology management workflow online; how to regain flawless version control over your terms; how to create a centralized term base that can scale with your growth; and, how to expedite the translation and review of terms.
Click here to read the full article.
About CSOFT International
CSOFT International Ltd. is a world leader in localization and globalization consulting services, providing turnkey solutions for companies facing the challenges of engaging customers and markets across linguistic and cultural barriers. Recognized as one of the Top Innovative Companies in 2011 by IDC we have an award-winning international team. In 2012, the company's CEO was named one of Fortune Magazine's 10 Most Powerful Women Entrepreneurs and a Tech Disruptor by CNN Money.