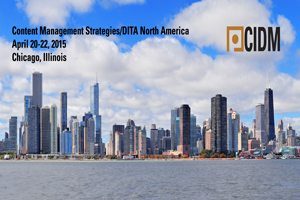 In today's global economy, companies large and small create content at an ever-increasing rate in an effort to be noticed, but with that comes the challenge of harnessing all they make to engage their audiences. At the upcoming Content Management Strategies/DITA North America conference in April, CSOFT International will share its secrets for how to develop content management strategies with global audiences in mind.
Daniel Herron, a content strategist at CSOFT who will be speaking at the event, said, "We always begin by asking our clients what they want to achieve globally, and then we work backwards from there to design the best content management strategies to help them achieve that goal."
Herron will be joined by speaker Marisa Chavarria, a specialist with DITA process and methodologies at CSOFT, at a session titled "No Puns Allowed: Writing and Managing Content for Your Global Audience" on Monday, April 20th.
The CMS/DITA North America conference will be held in Chicago, Illinois, from April 20-22. This year's event will feature more than 75 presentations, with each exhibitor sharing techniques that help content creators and managers produce attractive, effective publications and ensure the quality of deliveries to customers.
Click here to visit the CIDM official site.
About CSOFT International

CSOFT International Ltd. is a world leader in localization and globalization consulting services, providing turnkey solutions for companies facing the challenges of engaging customers and markets across linguistic and cultural barriers. Recognized as one of the Top Innovative Companies in 2011 by IDC we have an award-winning international team. In 2012, the company's CEO was named one of Fortune Magazine's 10 Most Powerful Women Entrepreneurs and a Tech Disruptor by CNN Money.